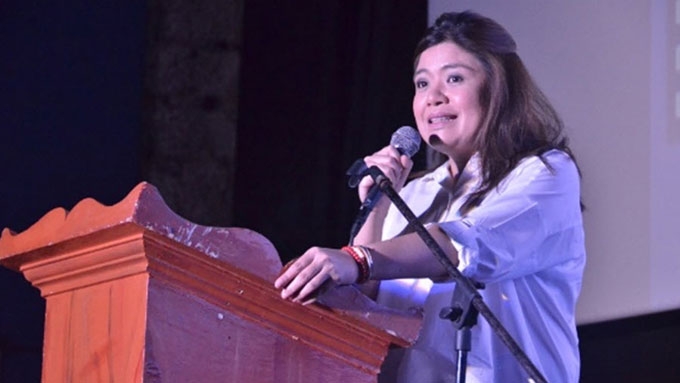 IMAGE Courtesy of MTRCB
---

The Movie and Television Review and Classification Board (MTRCB) successfully staged the 3rd MTRCB – Paranaque City Children's Film Classics.

The two-day event was held from February 9-10 at SM City BF Paranaque, SM City Bicutan and SM City Sucat. The simultaneous screenings intended to celebrate childhood by recognizing the voices and the rights of the youth.

Now on its third year, this joint project of MTRCB and the City of Paranaque, was made possible through the support of the Cultural Section of the Embassy of the People's Republic of China, MagnaVision Inc., Studio World., and Columbia Pictures Philippines who graciously shared with the MTRCB their materials.

Close to 2000 students, along with teachers, and representatives from Paranaque city government actively participated in the event.

An opening ceremony was held at SM Sucat. Paranaque City Schools Division Superintendent Dr. Magdalena M. Lim then officially launched the event with her thought-provoking welcoming address. Chairperson Maria Rachel Arenas and Congressman Eric Olivarez shared with the students their heartfelt messages of resilience, hope and their shared commitment in promoting the culture of and rights of the youth.

Two-critically acclaimed films were showcased during the event. On February 9, Kubo and the Two Strings was accepted warmly by the participants. The film tells the story of a little boy named Kubo and his journey to save his life and his family.

On February 10, the participants tearfully enjoyed the Chinese film, Thei-go King and His Son. The film focused on the father and son relationship and their passion in playing the popular Chinese board game Weiqi (Go).

What separated this year's event from its predecessors was the inculcation of the presentation on Revised TV and Film Classification Ratings shared by the MTRCB Board Members, mirroring the format on the effective Matalinong Panonood developmental campaigns. For the Board, the showcase of films would be of more value and appreciation if viewed through the eyes of responsible, discerning patrons.

Present during the first day at SM Sucat were Congressman Eric Olivarez, MTRCB Chairperson Maria Rachel Arenas, MTRCB Board Members (BM) Maria Lilia Espinosa-Supnet, Ricardo "Jojo" Salomon Jr., and Elizabeth "Bibeth" Orteza-Siguion Reyna.

In SM Bicutan, MTRCB Vice-Chairperson Emmanuel "Maning" Borlaza was present along with BM's Marta Ines "Manet" Dayrit, Gabriela "Gaby" Concepcion and Alfred "Krip" Yuson.

Lastly, In SM BF, BM Maria Consoliza "Marissa" Laguardia, Cherry Ann Espion, Nathaniel "Njel" De Mesa, Eric Mallonga, and Teresita "Tessie" Villarama were there to offer support

The Board were still in full force on the second day of the event. In SM Sucat, BM's Pablo "Bogie" Reyes, Njel De Mesa, Jeremiah Jaro. In SM Bicutan, a star-studded showcase of members of the Board offered their support, BMs Gladys Reyes-Sommereux, James Macasero, Luke Mejares and Catherine "Kate" Brios-Cabuga. In SM BF, BMs Jose Emiterio "Joey" Romero and Cherry Espion graced the crowd with their presence.




ADVERTISEMENT - CONTINUE READING BELOW