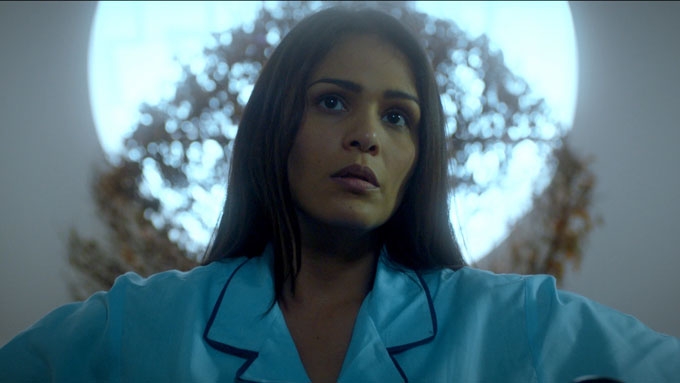 ---

Iza Calzado is expected to represent the sexually-charged thriller, Bliss, in the 2017 Osaka Film Fest in Japan.  
 
Directed by Jerrold Tarog, this movie will be competing in the 12th Osaka Asian Film Festival running from March 3-12, 2017.

Both Iza and Direk Jerrold are expected to grace the film fest in Japan.

Bliss had its world premiere at the film festival on March 5 and a second screening is scheduled on March 9.

The film also stars Ian Veneracion, TJ Trinidad, Adrienne Vergara, Michael de Mesa, Shamaine Buencamino, and Audie Gemora.
 
Bliss tells the story of actress Jane Ciego (Calzado). Though successful and desirable to many, Jane, now in her 30s, has become tired of the usual projects she's been getting. She decides to produce her own film to win respect in the industry. But things do not go as planned. A terrible accident on the set leaves her temporarily crippled, trapped in a house filled with bizarre phenomena, and under the care of her unloving husband and a strange, obsessive nurse. With the horrors and madness escalating each day, Jane's simple dream turns into an endless nightmare.

Aside from Bliss, two more movies from TBA (Tuko Film Productions, Buchi Boy Entertainment, Artikulo Uno Productions) will be showcased under the festivals' New Action! South East Asia Program. These are Birdshot by Mikhail Red and Patintero: Ang Alamat Ni Meng Patalo by Mihk Vergara.
 
Birdshot, a mystery thriller about a farm girl who mistakenly shoots and kills a critically endangered and protected Philippine Eagle, won the top prize for the Asian Future section of last year's 29th Tokyo International Film Festival. Leading the cast of Red's critically acclaimed movie are Mary Joy Apostol, Arnold Reyes, John Arcilla, and Ku Aquino. Red and producer Pamela Reyes will be in Osaka to represent the film.
ADVERTISEMENT - CONTINUE READING BELOW
 
Director Mihk Vergara will also be in OAFF 2017 for Patintero: Ang Alamat Ni Meng Patalo, a coming-of-age film about a young girl who assembles an unlikely team of 'losers' to compete in the biggest patintero sports fest of their barangay. The film was one of the selections in the 2015 QCinema Film Festival, taking home the prize for Audience Choice Award and Gender Sensitivity Award. It was also an official selection at the 3rd Silk Road International Film Festival at Xi'an, China last September.
 
The New Action! South East Asia Program is a "special program that features new movements in film, bringing action to art films to heat up Southeast Asian Cinema." 



---
Stories We Are Tracking
---