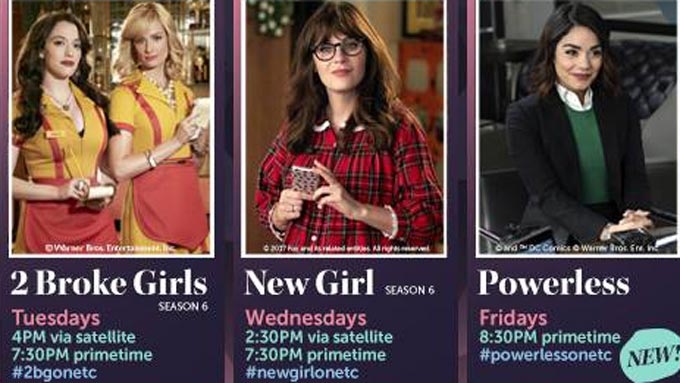 ---

PRESS STATEMENT:

Empowerment takes on a whole new level on ETC this Women's Month by featuring shows highlighting feisty and fab female stars.

Half-Filipina Hollywood celebrity Vanessa Hudgens frontlines ETC's latest hit sitcom Powerless as she plays Emily Locke, a spunky, young and driven executive who navigates her everyday life and discovers that greatness does not always require superpowers. Follow Emily's Powerless adventures every Friday at 8:30 PM.

Meanwhile, 2 Broke Girls Kat Dennings and Beth Behrs continue to inspire us to work our way up in realizing our dreams. Now on its 6th season, Max and Caroline are doing whatever it takes to grow their business despite the hurdles here and there. Get your dose of fun and inspiration from 2 Broke Girls Season 6 every Tuesday at 4 PM via satellite and 7:30 PM on primetime.

Zooey Deschanel as Jess Day bends the stereotype on women being the weaker sex as she braves through a bad break-up in New Girl. Despite her quirkiness, she gets through the entire process of moving forward with the help of her newfound male friends at the loft. Witness Jess' highs and lows in New Girl Season 6, Wednesdays at 2:30 PM via satellite and 7:30 PM on primetime.

In another universe, Melissa Benoist a.k.a. Supergirl / Kara Danvers displays a supernatural power to save mankind. What more can we ask for if we have a woman who can save the day from villains? Catch Supergirl Season 2 Tuesdays at 3 PM via satellite and 8 PM on primetime.
ADVERTISEMENT - CONTINUE READING BELOW
Lastly, the much-awaited series finale of The Vampire Diaries brings Elena Gilbert played by Nina Dobrev. What a surprise for the Salvatore brothers as they face their greatest challenge ever in Mystic Falls. Find out how the hands of fate will move them all in the end on ETC's special two-hour finale this Saturday, March 11, at 2 PM via satellite and 8 PM on primetime!

ETC, the only homegrown female channel both in free TV and cable, is available on UHF channel 21, Sky Cable channel 16, Destiny Digital channel 16, Global Destiny channel 28, Cignal channel 9, or Cablelink channel 34.