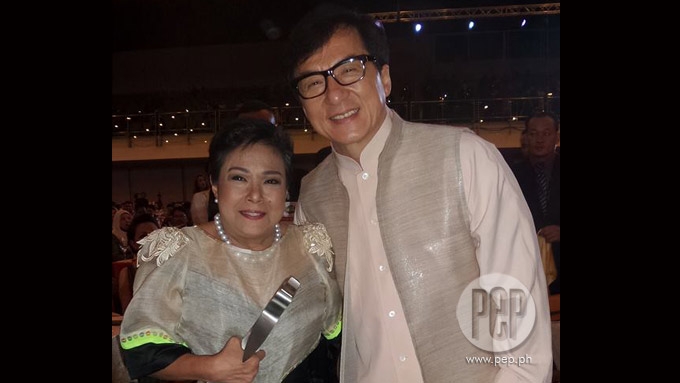 IMAGE Mell Navarro
---
Nora Aunor is expected to fly to Kuching, Malaysia to be a special presenter in the ASEAN International Film Festival and Awards (AIFFA 2017).

The Superstar is slated to present the Lifetime Achievement Award to this year's recipient during the Gala Night on May 6, 2017. She will fly on May 4, together with other Philippine delegates.
Nora was bestowed the same highest honor when she was recipient of the AIFFA Lifetime Achievement Award in 2015. Jackie Chan was given the Asian Inspiration Award that year.

According to sources close to the actress, Nora won't miss this opportunity to express her gratitude for the recognition given to her two years ago because of her various achievements and status in the Philippine entertainment scene.

The identity of this year's Lifetime Achievement Awardee is still under wraps as of press time.
Nora will be accompanied by John Rendez during the awarding ceremonies. The Superstar is still deciding between two designer gowns to wear at the glamorous Gala Night.

Cannes 2016 Best Actress Jaclyn Jose is also slated to attend the Malaysian film event. The star of Ma'Rosa is one of the special speakers in a separate activity to be held on May 5 (Friday).

The Filipina actress is said to be looking forward to this speaking engagement to give inspiration to her fellow ASEAN actors.
ADVERTISEMENT - CONTINUE READING BELOW
Last year, Jaclyn made history by becoming the first Southeast Asian actress to earn the Best Actress award in the Cannes International Film Festival for her performance in the Brillante Mendoza film.

Nine Filipino independent films are representing the Philippines in the third edition of AIFFA.

The biennial grand film event of Malaysia is headed by Livan Tajang who serves as festival director. 

From the films submitted, these nine films were chosen by the AIFFA 2017 organizers as "short listed" (to be screened during the festival).

Official nominees from all participating ASEAN countries for the different categories will only be declared during the Awarding Ceremonies (Gala Night) on May 6.
For this year, the nine chosen Pinoy films (all produced in 2015 and 2016) are: Imbisibol (Sinag Maynila 2015) by Lawrence Fajardo, Purgatoryo (QCinema 2016) by Derick Cabrido, Dagsin (Cinemalaya 2016) by Atom Magadia, Paglipay by Zig Dulay (ToFarm Film Festival 2016) and Pauwi Na by Paolo Villaluna (ToFarm Film Festival 2016).

There's also Laut and Area, both directed by Louie Ignacio, Dayang Asu (Cinema One Originals 2015) by Bor Ocampo, and Ned's Project (Cine Filipino 2016) by Lem Lorca.

Aside from Direk Louie, actors Allen Dizon and Bernardo Bernardo are also flying to Malaysia to represent their two films in the list: Allen for Imbisibol and Area, Bernardo also for Imbisibol and Purgatoryo.

For Laut, producer Ferdy Lapuz joins Direk Louie, while for Area, executive producer Baby Go joins Direk Louie and Allen.

Onyl Torres, a cast member of Imbisibol, is also expected to join.

Anna Luna (Paglipay) and Direk Paolo (Pauwi Na) are also going to AIFFA in Malaysia to represent their respective films.   

For Dagsin, actor Benjamin Alves and co-writer/ supervising producer Anne Prado-Magadia will join Direk Atom. Direk Bor will be joined by his film editor Mikee Dela Cruz for Dayang Asu.

As of press time, the representative of Ned's Project is still being finalized.

AIFFA is a film competition by ASEAN countries such as the Philippines, Malaysia, Singapore, Indonesia, Cambodia, Laos, Thailand, and Myanmar.

Ang Babaeng Humayo (The Woman Who Left) by Lav Diaz will be this year's opening film, to be represented by executive producer Ronald Arguelles. Mercedes Cabral will also be a special guest among the Pinoy delegates.

The awards night will be hosted by Filipino celebrities Marc Nelson and Rovilson Fernandez.

Cherie Gil, who won Best Actress in AIFFA 2015 for Sonata, and Marlo Mortel are tapped to be presenters. Jason Dy is expected to perform a song number.

FDCP Chair Liza Diño-Seguerra will also attend as a guest speaker in the festival.

Award-winning Filipino filmmaker Raymond Red is one of the jury members this year. The Philippine coordinator for AIFFA is cinematographer Rain Yamson II.

Film ASEAN, a film organization headed by former FDCP Chair Briccio Santos, will also be represented by Executive Secretary Miguel Dela Rosa.
ADVERTISEMENT - CONTINUE READING BELOW
AIFFA 2017 can be watched LIVE for three days (May 4-6) through the website www.aiffa2017.com