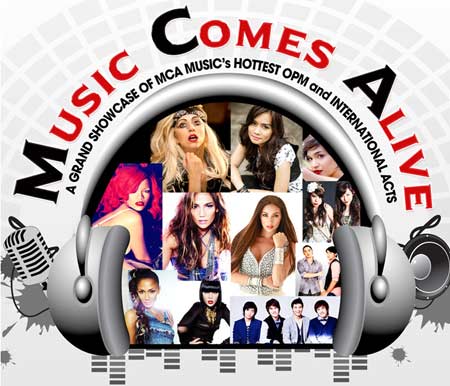 ---
Get the best of "both worlds" with a grand showcase of MCA Music's hottest OPM and International Acts in a 2-day event dubbed as "Music Comes Alive." Mark your calendars on July 22 at the Eastwood Central Plaza, 8PM and on July 23 at Venice Piazza at McKinley Hill, 8pm for this musical feast.
Catch MCA Music's latest additions to its growing OPM roster: pop boyband 1:43, easy listening gem Tricia Garcia, pop duo The Lamars, alternative rock singer Kitchie Nadal and the multi-faceted Solenn Heussaff.
Also witness acoustic sibling duo Krissy and Ericka perform a sneak peak of their upcoming album and meet another Filipina sensation making waves abroad: Lica.
The event will also feature the music of international pop divas who are conquering the local music scene with their back-to-back chart-topping hits: Lady Gaga, Rihanna, Jennifer Lopez, Jessie J and Nicole Scherzinger.
Get to witness a fashion show inspired by these 5 international superstars as Muzikademy stages a spectacular fusion of these artists' fashion style and their massive hits.
1:43 is composed of four talented, charming, and stylish lads namely Anjo Resurreccion, Gold Aquino, Kim Nicolas and Yuki Sakamoto. Their debut album "Time for Love" contains a refreshing mix of five original and distinctly Filipino pop songs and their respective minus one versions featuring the hit single, "PiNK" (Pag-Ibig Na Kaya?), a collaboration track with Myrus. Brothers Dj and Micah Lamar aka The Lamars are set to show sibling power as they release their debut EP Kung Puede Lang under MCA Music. It features the carrier single of the same title which was written by Urbandub vocalist Gabby Alipe, "Kung Puede Lang."
Tricia Garcia sets a new trend in Philippine music via her debut album Kulay with her version of "Tabing Ilog" as carrier single. She brings light jazz, a mixture of easy listening pop, and jazz. After the success of her singles "Wag na Wag Mong Sasabihin" and "Same Ground", she's back with a new single under MCA Music titled "Isang Araw" slated for digital release.
ADVERTISEMENT - CONTINUE READING BELOW
Tagged as a "multi-slashie", meaning wearing many hats at the same time, Solenn is on fire as she adds recording artist on the list of "slashes" with her self-titled debut album featuring the banner track "Fire."
Meanwhile, YouTube sensations and sisters Krissy and Ericka follows up the success of their debut album with their sophomore release this year featuring versions of top hits as well as original songs. Lica is a Switzerland based Pinay who is currently making waves abroad. She was chosen by Oscar, Golden Globe and Grammy-award winning singer/ producer Phil Collins for his Little Dreams Foundation and has collaborated with the likes of Bryan Adams.
From her first ever #1 hit, "Poker Face" down to her current massive hit singles "Born This Way" and "Judas" from her latest monster album, Born This Way, Lady Gaga's stardom continues to reign with her artistic and out-of-this-world musical prowess that truly makes her the 'Queen of Pop.'
World-class megastar Rihanna has once more heightened the intensity of her tasteful music, smashing the charts with much more of her celebrated uptempo dance grooves with the release of her latest album, 'Loud' featuring her soulful sexy hit singles "Only Girl (In The World)", "What's My Name?", "S&M" and "California King Bed". Get a hold of Rihanna's new fragrance, 'Reb'l Fleur', which will be launched during this event.
Singer, actress, dancer, designer and American Idol judge Jennifer Lopez has just released her 8th studio album, LOVE?, which includes her massive hit singles "On The Floor" and "I'm Into You." "On The Floor" became her highest charting commercial single as a lead artist, as well as her most successful airplay hit on contemporary hit radio.
Multi-talented songwriter Jessie J, who has produced songs for big artists like Miley Cyrus, Justin Timberlake, Rihanna and Chris Brown, decided to start her singing career with the release of her debut album Who You Are, which instantly became a record-breaker with the success of her massive #1 hit single, "Price Tag."
ADVERTISEMENT - CONTINUE READING BELOW
On the other hand, The Pussycat Dolls' lead singer, Nicole Scherzinger goes solo as she unleashes her upcoming solo debut album, Killer Love, to be launched during the event on July 22, which includes her charting hits "Poison," "Don't Hold Your Breath and her current hit single "Right There" feat. 50 Cent.
These five artists exemplify the strength of an empowered woman who goes out to the world and shows the world what she's got and breathes passion and ingenuity in what she does.