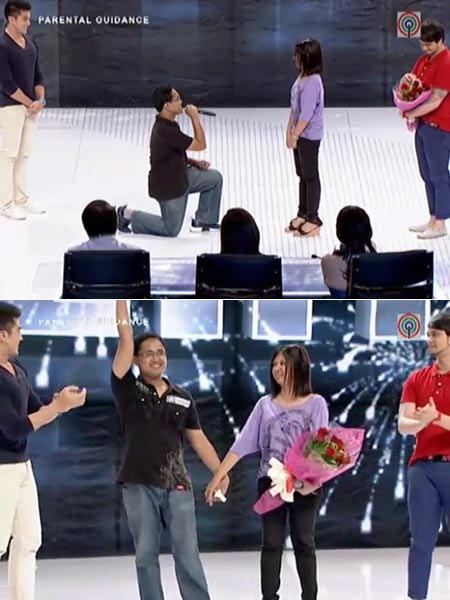 ---
Twenty six year old Pilipinas Got Talent Season 3 hopeful Denbher Asuncion auditioned for the ABS-CBN's talent reality show not just to get the coveted yes of the Big Three judges, but more importantly to get the "yes" of his wife-to-be.
The call center agent from Cebu may have not pleased the crowd with his singing but he definitely surprised everyone when he called her girlfriend on stage and proposed marriage. In the end, Denbher still proved to be successful because he surely is a grand winner in the game of love.
But who will be the grand winner for this season of PGT? Watch out for more world class acts and interesting sidelights in Pilipinas Got Talent, airing every Saturday, 9PM, and Sunday, 8:30 PM on ABS-CBN.
SHARE THIS STORY " data-url="https://www.pep.ph/guide/at-a-glance/8546/find-out-if-the-woman-accepted-her-fiances-proposal-during-the-pilipinas-got-talent-episode" data-desc="Contestant proposes to his girlfriend during Pilipinas Got Talent audition" data-image="https://contents.pep.ph/images2/guide/1311329616_PGT.jpg"> " data-url="https://www.pep.ph/guide/at-a-glance/8546/find-out-if-the-woman-accepted-her-fiances-proposal-during-the-pilipinas-got-talent-episode" data-desc="Contestant proposes to his girlfriend during Pilipinas Got Talent audition" data-image="https://contents.pep.ph/images2/guide/1311329616_PGT.jpg"> " data-url="https://www.pep.ph/guide/at-a-glance/8546/find-out-if-the-woman-accepted-her-fiances-proposal-during-the-pilipinas-got-talent-episode" data-desc="Contestant proposes to his girlfriend during Pilipinas Got Talent audition" data-image="https://contents.pep.ph/images2/guide/1311329616_PGT.jpg">
SHARE THIS STORY
" data-url="https://www.pep.ph/guide/at-a-glance/8546/find-out-if-the-woman-accepted-her-fiances-proposal-during-the-pilipinas-got-talent-episode" data-desc="Contestant proposes to his girlfriend during Pilipinas Got Talent audition" data-image="https://contents.pep.ph/images2/guide/1311329616_PGT.jpg"> " data-url="https://www.pep.ph/guide/at-a-glance/8546/find-out-if-the-woman-accepted-her-fiances-proposal-during-the-pilipinas-got-talent-episode" data-desc="Contestant proposes to his girlfriend during Pilipinas Got Talent audition" data-image="https://contents.pep.ph/images2/guide/1311329616_PGT.jpg"> " data-url="https://www.pep.ph/guide/at-a-glance/8546/find-out-if-the-woman-accepted-her-fiances-proposal-during-the-pilipinas-got-talent-episode" data-desc="Contestant proposes to his girlfriend during Pilipinas Got Talent audition" data-image="https://contents.pep.ph/images2/guide/1311329616_PGT.jpg"> " data-url="https://www.pep.ph/guide/at-a-glance/8546/find-out-if-the-woman-accepted-her-fiances-proposal-during-the-pilipinas-got-talent-episode" data-desc="Contestant proposes to his girlfriend during Pilipinas Got Talent audition" data-image="https://contents.pep.ph/images2/guide/1311329616_PGT.jpg">