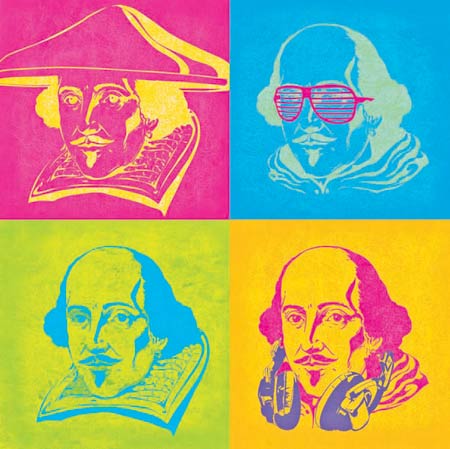 ---
PRESS STATEMENT FROM PETA:
"For many educators, teaching Shakespeare has been the curricular equivalent of serving children ampalaya (bitter melon). Young Filipino's know that it is "good for them" but refuse to take a bite.
"Luckily, teachers and parents can now help students conquer their fear of Shakespeare. Much like how mothers cleverly sneak vegetables into their family's daily diet, Shakespeare can now be made more exciting and appetizing for the youth.
"LEARNING STARTS WITH CONQUERING FEAR. For its 44th Theater Season, Philippine Educational Theater Association (PETA) produces modern, educational and entertaining plays and events that can help students and non-students to rediscover and understand Shakespeare.
"PETA kicks off its Theater Season with "Hu Art Daw?" a design contest that allows young artists to create an original icon that will best represent PETA's hip, young, vibrant and fun Shakespeare Season.
"What better way can students shake off their fear of Shakespeare than have their chance to re-invent the Bard outside his usual big frilly collar and stuffy pose? PETA encourages professional and amateur artists to draw their own version of Shakespeare that will appeal to the youth.
"The winner of PETA's "Hu Art Daw?" design challenge will become PETA's official icon for its 44th Theater Season and shall appear in all of PETA's posters, flyers, merchandise and other marketing collaterals.
"SHAKESPEARE, AS YOU LIKE IT. With the popularity of rap and hip-hop among teenagers at an all time high, and with Shakespeare being a master of rhythm, PETA creates an original play that takes rap to breakdown Shakespeare.
"Ron Capinding's "William" uses poetry, word play and lyricism to tell the story of a group of high school students in a Metro Manila school studying Shakespeare.
"William's characters represent usual high school stereotypes: there's Erwin, the shy boy in class; Sophia, the not so smart pretty lass; TJ, the bad boy athlete; Richard, the eager student leader; and Estela, the honor student. As much as these students are part of different cliques, all of them struggle to understand Shakespeare and his works - some find his poetry difficult to understand, others are simply bored with the subject and most simply don't find meaning in studying Shakespeare. Their lack of interest in the subject resulted to grabbed research and reports from the Internet, which enraged their rather passionate English teacher, Ms. Martinez.
ADVERTISEMENT - CONTINUE READING BELOW
"Punished due to their "insolence to Shakespeare," Ms. Martinez requires them to present a scene of a Shakespearean play, which allows them to rediscover how Shakespeare characters and stories are parallel to their life situations.
"William opens on August 12 at the PETA Theater Center with shows every Fri, Sat and Sun at 10:00am and 3:00pm until September 25, 2011. PETA's Artistic Director Maribel Legarda directs William.
"After "William", PETA produces a concert where Shakespeare's sonnets are turned into modern-day songs performed by our well-loved musical artists.
"PETA then welcomes the New Year with fresh translation of Shakespeare's King Lear. Considered by many as Shakespeare's best work, PETA's Haring Lear is translated by National Artist for Literature Bienvenido Lumbera, directed by Nonon Padilla with set design by National Artist for Theater Design, Salvador Bernal.
"Haring Lear opens January 27, 2012 at the PETA Theater Center with shows every Fri, Sat and Sun at 10:00am and 3:00pm until March 4, 2012.
"Aside from William and Haring Lear, PETA will have more performances of the hit musical Care Divas on December 2-4, 9-11, 2011.
"With PETA's line-up of performances and events, students and non-students can now rediscover Shakespeare as he gets a fresh and modern re-cut. Enjoy timeless tales of love, betrayal, friendship and trust from the master storyteller of all time - Shakespeare!"
For inquiries and ticket reservations, please contact: PETA Marketing and Public Relations Office at Tel. No. 7256244, 4100821-22 or 0917-5765400, petatheater@gmail.com