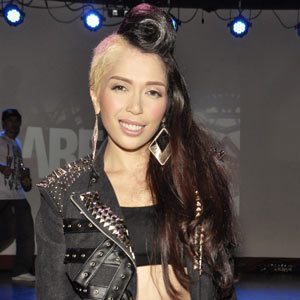 ---
PHOTO CAPTION: Maria Chelo Espina, or Chelo A., breaks out as a solo artist with the release of her debut album under Homeworkz label, and distributed by Universal Records.
Former Philippine All Stars member Chelo Aestrid knows that her spunky image makes her susceptible to comparisons to pop singers Cyndi Lauper, Gwen Stefani, Pink, and of course, Lady Gaga.
But while the initial impression may sound valid at first glance, there's no doubt that Chelo A (as what she prefers to be called) is a unique talent driven to give the image of female Filipino performers a needed facelift.
There's nothing predictable about the soft-spoken yet flamboyant singer-songwriter and performer.
Born in the province of Cebu, Maria Chelo Espina, relocated to Los Angeles, California when she was 8 and stayed in the U.S. before deciding to stay indefinitely here in the Philippines to pursue her creative passion.
FINDING HER PLACE. The performer in Chelo first led her to join the now famous Philippine All Stars dance group back in 2005.
Although widely acknowledged as one of the group's original members, Chelo's restless nature prompted her leave the group momentarily to study in London before rejoining the team in 2008, where they clinched their 2nd World Hip-Hop Dance Championship.
In between performing and dealing with the group's rising popularity, Chelo's innate desire to create inspired her to continuously write songs ranging from having a good time, to love, and just about anything under the sun.
The diverse theme of the songs, however, carries one underlying motivation on the songwriter's part: showcase Pinoy talent as world-class without shunning its roots.
Chelo's songs and potential caught the attention of longtime friend and singer Jay-R, who at the time was looking for artists to beef up the lineup of his Homeworkz label.
Jay-R immediately invited Chelo onboard and the two worked on the latter's solo album she titled Love, Life & D' Light.
ADVERTISEMENT - CONTINUE READING BELOW
The album, which is now available in all record bars nationwide, has so far churned out the hits singles "Pinays Rise" and the foreign sounding club tune "Connection."
GOING SOLO. The production and eventual release of her own record prompted Chelo to leave anew the Philippine All Stars.
"Pero they're still my family, and I still keep in touch with them, and we support each other," Chelo told PEP.ph (Philippine Entertainment Portal) in an interview at Area 05 on Tomas Morato in Quezon City.
Chelo stressed that her decision to depart from the dance crew will enable her to focus solely on her career as a solo recording artist and performer.
"Kasi dati, yung music ko is on the side, hindi nagwu-work kasi wala yung focus ko," said Chelo.
Album production took a little bit of time because she had to juggle recording sessions and taxing commitments with the Philippine All Stars.
Cutting off any extra-curricular activities at this point is also essential as Chelo sets to embark on a series of promotional efforts to introduce her brand of music to the listening public.
PINOY HIP-HOP. The challenge is for Chelo to make hip-hop-a genre highly identified still with American culture -palatable to the local masses.
Chelo's music, however, incorporates other genres like R&B, electronic, and pop, among others, and that allows her to reach out to a wider market outside the hip-hoper listeners.
"You'll never know how the audience will accept it," confessed Chelo. "But I guess makikita naman nila that I'm speaking from the heart."
Changing the image of hip-hop away from the stereotypes (violence, sex, and excessive lifestyle) is also Chelo's personal mission now that she's at the forefront.
She likewise welcomes the thought of assuming a spokesperson role to represent the Filipino youth found all over the world.
ADVERTISEMENT - CONTINUE READING BELOW
Filipinos, according to Chelo, are oozing with talent but lacks the proper venue to showcase their gift, plus the fact that those based abroad are considered minorities and that somehow limits opportunities.
Chelo-who is also into business and retailing via her own Capital G Shop located at Robinsons Galleria-has recently joined the stable of talents being managed by Arnold Vegafria.
Interestingly, Chelo has dabbled in the past with hosting and acting, having appeared in the projects Twin Hearts, Bitoy's Funniest Videos, and Cesar Montano's 2004 film Panaghoy Sa Suba.
Chelo stressed that her main priority at the moment is singing and promoting the album. Acting and other non-music related gigs, although very much welcome, can wait just a little bit.
"We'll try to push muna yung singing and music ko. Kung may offer to act or host, why not 'di ba? But now wala pa pong plano about other things beside music. Kasi kung nira-rush mo, parang pinipilit mo lang," she explained.
For Chelo, nothing is forced and deliberate--just good times and great music brimming with Pinoy pride.
TRACK LISTING.
Pinays Rise
Love, Light, D' Light
Be
Connection (feat. Jay-R and Q-York)
Wonder
Kiss & Tell
Mr. Wonderful
Boracay (feat. Q-York)
Acrobatics
All About Timin'
Grow (feat. MDL)
Drug
Push & Pull
Does It Get Easier?
Sacrifice (feat. Q-York)
Someday
The Truth
Diamonds (feat. Lyrically Deranged Poets)
Make It Pop (feat. Knowa Lazarus and Ron A)
Get Outta Hea (feat. Pikaso & Knowa Lazarus)
Pirates (feat. Knowa Lazarus & Pikaso)
H.O.M.E. (feat. Nimbus Nine & Knowa Lazarus)
Prayer