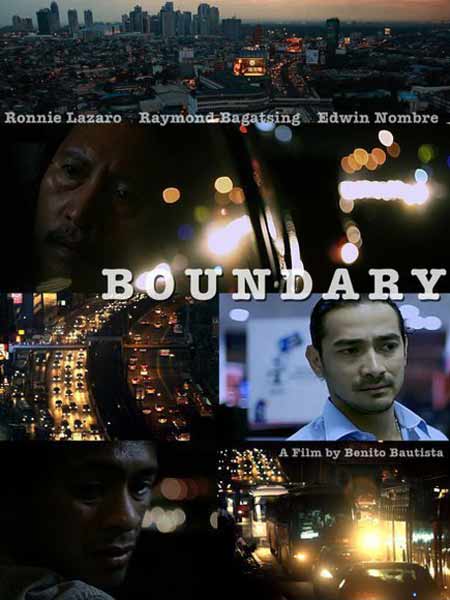 ---


Cinemalaya fever continues at the University of the Philippines Film Institute in Diliman, Quezon City.


Launched during the 2009 Cinemalaya Festival and Competition, the Cinemalaya NETPAC Award aims to encourage the creation of and recognition of outstanding Filipino independent films participating in the Philippine Premieres section of the Cinemalaya. The first Cinemalaya NETPAC Award was given to Ralston Jover's Bakal Boys while Arnel Mardoquio's Sheika received the award in 2010.


This 2011, the prestigious award went to Boundary, starring Ronnie Lazaro and Raymond Bagatsing. The film is inspired by true stories of taxicab drivers of metropolitan Manila.


NETPAC or Network for the Promotion of Asian Cinema is a worldwide organization of more than thirty member countries and is composed of critics, filmmakers, festival organizers and curators, distributors and exhibitors as well as film educators. Established in 1990, NETPAC has become the leading platform for the discovery and promotion of Asian Cinema.


Cinemalaya is among the important film festivals where the NETPAC Award is given. The NETPAC Award is given at 28 international film festivals, including those of Abu Dhabi, Antalya, Asiatica Filmediale, Bangkok, Barcelona, Berlin, Brisbane, Bursa, Chongqing, Estonia, Kazakhstan, Hawaii, Kerala, Jeonju, Jogjakarta, Karlovy Vary, Locarno, Mumbai, New Delhi, Pusan, Puchon, Rotterdam, Singapore, Taipei and Vesoul.
(CLICK HERE to view the list of winners for the 7th edition of Cinemalaya)
The public can watch the following NETPAC entries at the UPFI Film Center on the following dates:
August 3 Wednesday
2:30 p.m. Gayuma by Alvin Yapan
August 4 Thursday
2:30 p.m. Nono by Milo Tolentino
August 5 Friday
2:30 p.m. Local Girls by Ned Trespeces and Onnah Valera
ADVERTISEMENT - CONTINUE READING BELOW
August 6 Saturday

2:30 p.m. Huling Halik by Zig Dulay
5 p.m. The Natural Phenomenon of Madness by Bebs Gohetia
7:30 p.m. Liberacion by Adolf Alix
August 16 Tuesday
7 p.m. Cinemalaya Netpac Best Film: Boundary by Benito Bautista
CINEMALAYA NETPAC FILMS
SAN LAZARO by Wincy Aquino Ong

San Lazaro is a horror-comedy starring Filipino cult icon Ramon Bautista. Limuel and Sigfried, estranged childhood friends, journey to the remote town of San Lazaro to ask an infamous faith healer for help in saving the life of Limuel's brother, who becomes possessed by a secret-eater spirit.
GAYUMA by Alvin Yapan

Gayuma is a magical tale of love going beyond the boundaries of social class, religious and superstitious beliefs, and urban-rural prejudices. A failed exorcism of a talking and dancing statue of a Child Jesus led a poor sacristan, Delfin, to concoct a love potion to make Carla, a rich girl, fall for him. After Carla drinks the potion and assents to all his advances, Delfin could not believe his luck until he is no longer certain whether Carla really loves him. Delfin descends into a deep sleep of paranoia, from which no medical science could wake him. Carla goes on a pilgrimage to the heart of a lush mountain to overturn the enchantment of the love potion. A possessed statue of a Child Jesus stands between the two lovers. Will their faith bring them closer together or keep them apart?
NONO by Milo Tolentino

Toto, a very outspoken, highly opinionated eight-year-old born with a cleft lip and an open palate sets off to join his school's Creative Declamation Competition - a contest of narrative drama and eloquence set on the very high- profiled Philippines' National Language Week celebration. Speech impediment or not, Toto, armed with iron-clad determination and a desire to be treated like everyone else--no more, no less, takes on the challenge with the help of his lovelorn mother, an emotional bully [Badong] and a stray deaf boy [Ogoy] from his neighborhood.
ADVERTISEMENT - CONTINUE READING BELOW
LOCAL GIRLS by Ned Trespesces & Onnah Valera

What happens when an odd pair of minimum wage earners working in a seaside resort in Iloilo decide to take a walk on the wild side? Fate is a goody-two-shoes aspiring law student trying to save up tuition money. And Margie is a juvenile delinquent who hates the world. They are best friends despite their difference in temperament. Both girls are perpetually broke, bored with their mundane lives, and are looking for a little adventure. They get exactly what they wish for when they embark on an insane weekend that leaves their world in a state of utter disorder.
HULING HALIK by Zig Dulay
In the midst of celebrating flowers in bloom in Panagbenga Flower Festival, JM (Kenjie Garcia) and ILI (Joeffrey Javier) try to rekindle their withering relationship. On their last day together in Baguio, they plan to do the things they used to do in the past. But everything feels different for JM. Like the fog in the city of mountains, their plans fade away. And just like how the city transformed, everything has changed. JM has to accept the transience in everything, including their relationship, and nothing stays forever.
THE NATURAL PHENOMENON OF MADNESS by Bebs Gohetia

Two years after she was raped, a woman agrees to meet with her rapist in the beautiful ruins of Intramuros. As they have the same blood type, her rapist asks her to donate blood for his operation claiming this will lengthen his life and will give him ample time to seek redemption. The woman refuses to do so as she rediscovers she is still a victim of unrequited love towards her rapist. Told in two separate perspectives, the story revolves around how the woman and man pick the pieces of their broken lives after the rape, meeting every so often at places that remind them of their past. They are confronted by the fact that they are both victims of each other: THE WOMAN struggles with loving no one but the man; THE MAN, struggles with his guilt knowing he can't love the woman the way she wants him to.
ADVERTISEMENT - CONTINUE READING BELOW
LIBERACION by Adolfo Alix Jr.

Makoto of the Japanese Imperial Army decided to go into hiding after the Japanese soldiers were defeated in 1945. In the dread of the forest, he decides to struggle despite efforts for him to surrender, thinking the war is not yet over. For a span of almost 20 years, he encounters different situations that will test his persona and his strength to his vow as a Japanese soldier.
BOUNDARY by Benito Bautista

Boundary is inspired by true stories of taxicab drivers of metropolitan Manila. It is set in the urban roadways of Manila during Christmas. Limuel (Ronnie Lazaro), a middle-aged taxicab driver picks up Emmanuel (Raymond Bagatsing), a handsome businessman as his last passenger for the night. Unknown to Emmanuel is Limuel's conspiracy to bring him to the robbery hideout of Diego (Edwin Nombre), a feisty and volatile robbery gang leader. Their journey together from Cubao to Antipolo is riddled with inescapable tension and bad luck, and the only way out is to face their damnation.
This event is co-presented by UP Cinema, Outpost Visual Frontier, and UP Cineastes' Studio.
Tickets @ PhP80 each
Contact 09159875323 for inquiries and ticket reservations.