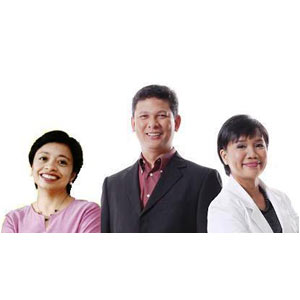 ---
PHOTO CAPTION: Investigative Documentaries host Malou Mangahas (extreme right) is joined by Philippine Center for Investigative Journalism (PCIJ) co-founder Sheila Coronel (left) and current PCIJ Multimedia Director Ed Lingao (middle) in presenting the importance of the Freedom of Information Bill.
PRESS STATEMENT FROM GMA-7:
"Now that the President has again ignored pleas for the inclusion of the Freedom of Information bill in his list of priority measures, the country's top investigative journalists team up to explain why such a law is necessary if the government is sincere in its promise to minimize graft and corruption.
"In a special episode of GMA News TV's Investigative Documentaries, airing on August 4, host Malou Mangahas will be joined by two of the program's board of advisers, Sheila Coronel and Ed Lingao.
"Coronel, who co-founded and headed the Philippine Center for Investigative Journalism (PCIJ) for two decades, was in the country for a short break from managing and teaching at the Toni Stabile Center for Investigative Journalism at Columbia University.
"Coronel interviews veteran journalists who struggled to keep the public informed during the dark days of martial law. They recall days when military officers were posted in newsrooms to censor unflattering reports about the Marcos regime. They all agree: Democracy can only thrive when the public is guaranteed access to public documents and information.
"Lingao, currently PCIJ's multimedia director, joins a team of ID researchers to test the openness of Metro Manila's 17 mayors with their Statements of Assets, Liabilities and Net worth (SALN). What Lingao and his team find out is that only a handful are transparent with their wealth, while others employ various means to dodge the request.
ADVERTISEMENT - CONTINUE READING BELOW
"Under RA 6713 or the Code of Conduct and Ethical Standards for Public Officials and Employees, SALNs are documents that are public in nature, and as such "must be made accessible to, and readily made for inspection by, the public within reasonable working hours."
"Host Malou Mangahas explains the value of FOI in nation-building, and the struggle to have it approved for decades now. Ironically, while the seeds of transparency were planted during the late Pres. Corazon Aquino's administration via RA 6713, her son, Pres. Benigno Simeon Aquino III seems reluctant to grant the FOI bill his office's imprimatur.
"Mangahas also demonstrates how the public can be informed of government projects in their area, if documents are readily available to them. She checks the funding for the new lampposts along Espana. Will she succeed in knowing how much each cost taxpayers?
"Investigative Documentaries airs every Thursday, 8 P.M. on GMA News TV Channel 11."
Ed's Note: When content falls under "Press Statement," this means that the material is fully and directly from the company itself. The use of open-and-close quotation marks to envelope the entire text shows as much. This also means that PEP is not the author of the statement being read. PEP is simply providing the information for readers who may be interested.