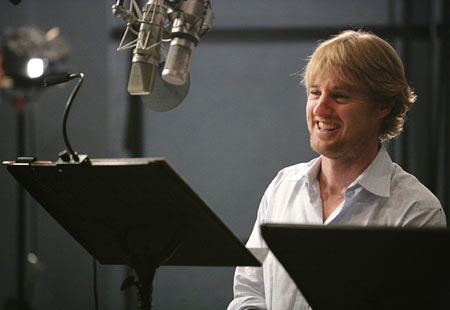 ---
PRESS STATEMENT FROM WALT DISNEY:
"Making the car characters in Disney/Pixar's new animated adventure Cars 2 come alive requires a masterful blend of great vocal performances and top animation talents. Owen Wilson and Larry the Cable Guy reprise their starring vocal roles as Lightning McQueen and Mater, and Michael Caine and Emily Mortimer make their Pixar vocal debut as British spy cars Finn McMissile and Holley Shiftwell, while John Turturro sounds off as Francesco Bernoulli.
"We have terrific actors," says producer Denise Ream, "and they obviously make the animators' lives a lot easier with their performances."
"While publicizing Cars in 2006, Owen Wilson (Marley & Me, Hall Pass) attended the Grand Prix in Spain with director John Lasseter. "The spectacle and the sound of Formula 1 racing is something unbelievable," says Wilson. "I also became somewhat of a racing fan after meeting some of the NASCAR racers on the first film."
"Wilson says Lightning McQueen has grown up a little in Cars 2 but still has his racing edge. "When the movie begins, I'm happy just to be in Radiator Springs, and I get to spend time with Sally and everyone," he says. "The big change for my character is that he's learned his lesson in the first film. He's now a lot more grounded, but Francesco [Bernoulli] gets him stirred up and back into the competitive mode."
"Francesco isn't the only one who stirs up Lightning. "Mater is like one of those overgrown puppies that you love and has such loyalty and love," says Wilson. "But he kind of drives me crazy too. His heart's in the right place, but in trying to help, he just creates more chaos."
ADVERTISEMENT - CONTINUE READING BELOW
"Growing up in Texas, Wilson says, "I've always had some sort of a love affair with cars. As a kid, I'd make up a list--if you could have five cars, what would they be? I love Aston Martins and the DeLorean from Back to the Future and Ferraris--from the '50s especially--are really amazing. I drive a Prius, but maybe that's not as exciting as some of those cars."
"In Cars 2, star racecar Lightning McQueen and his best friend, the incomparable tow truck Mater jump-start a new adventure to exotic new lands stretching across the globe.
"The duo are joined by a hometown pit crew from Radiator Springs when they head overseas to support Lightning as he competes in the first-ever World Grand Prix, a race created to determine the world's fastest car. But the road to the finish line is filled with plenty of potholes, detours and bombshells when Mater is mistakenly ensnared in an intriguing escapade of his own: international espionage.
"Opening across the Philippines on August 24 in IMAX 3D, Digital 3D and regular format, Cars 2 is distributed by Walt Disney Studios Motion Pictures International through Columbia Pictures."
Ed's Note: When content falls under "Press Statement," this means that the material is fully and directly from the company itself. The use of open-and-close quotation marks to envelope the entire text shows as much. This also means that PEP is not the author of the statement being read. PEP is simply providing the information for readers who may be interested.
ADVERTISEMENT - CONTINUE READING BELOW