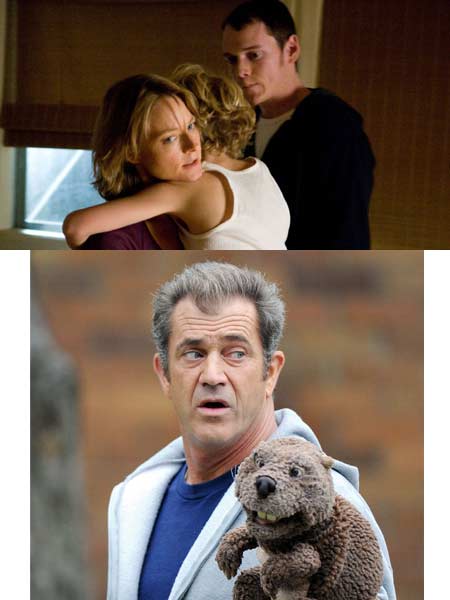 ---
PRESS STATEMENT FROM AYALA MALLS CINEMAS:
"Jodie Foster's performances in The Accused and The Silence of the Lambs earned her two Academy Awards® for Best Actress and a reputation as one of the most critically acclaimed actresses of her generation. Now, she directs a full-length film for the third time—Summit Entertainment's The Beaver, an emotional story about a man on a journey to re-discover his family and re-start his life. The critically acclaimed film will be shown exclusively at Ayala Mall Cinemas (Glorietta 4, Greenbelt 3 and Trinoma) starting August 10.
"In the film, Walter Black (Mel Gibson) was once a successful toy executive and family man who now suffers from depression. No matter what he tries, Walter can't seem to get himself back on track...until a beaver hand puppet enters his life. Emerging from what had seemed like a terminal stupor, he begins speaking through the hand puppet, at first to himself, then to everyone else.
"I think there are many genuine examples in our culture over and over again where people will don a different personality, split themselves, in order to cope with an overwhelming situation," Foster explains. "We see that in everyday life, that there are things you know you just can't face, so you find a way to cope."
"Because of her deep connection to the material, Foster realized that she wanted to play the role of Meredith, Walter's wife. She was, however, unsure of Mel's reaction. So she went in person to his house to break the news and see if he was comfortable with it. Gibson was delighted.
ADVERTISEMENT - CONTINUE READING BELOW
"It's always great," he says. "I worked with her once before and I really dug it. She's always there if you need a friend. So I was happy to work closely with her again."
"Meredith buys into Walter as the beaver because of how much she loves her younger son Henry and how worried she is about him," shares Foster. "Henry's been in a shell, socially withdrawn. When the beaver comes along he comes alive and begs his mother to allow the beaver to remain part of their lives. It's plausible that a mother would do anything to see her child thrive.
"Porter, the teenage son is the only character who refuses to buy into the beaver, going so far as to tell his younger sibling the beaver isn't real. Porter's basically appalled by his father's behavior as most 17 year-olds would be. He's desperately afraid of becoming like his father."
"Porter's main goal is to avoid being like Walter and, in general, to avoid having any sort of personality for fear that he will be just like him after all," says Anton Yelchin who plays the part. "In a way he's trying to shut himself down. But of course he and his father are similar in ways that it kills Porter to acknowledge."
"Foster concludes, "It's easy to think of The Beaver as a story about a guy who puts a puppet on his hand but it's also equally a tale of a son who is so like his father, but wishes he wasn't."
ADVERTISEMENT - CONTINUE READING BELOW

Ed's Note: When content falls under "Press Statement," this means that the material is fully and directly from the company itself. The use of open-and-close quotation marks to envelope the entire text shows as much. This also means that PEP is not the author of the statement being read. PEP is simply providing the information for readers who may be interested.