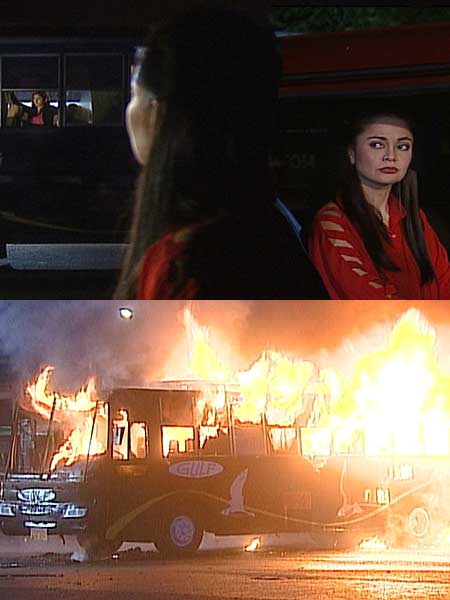 ---
PHOTO CAPTION: Selina (played by Eula Valdes, top frame, wearing red) plans to kill Via (Lauren Young) as Mula sa Puso comes to an end. This marks the second time that Wenn Deremas bids goodbye to this seris since he also directed the first Mula sa Puso way back in 1999, which then starred Claudine Barretto, Rico Yan and Diether Ocampo.
PRESS STATEMENT FROM ABS-CBN:
"ABS-CBN's primetime series Mula sa Puso comes to a big and explosive end via the iconic bus explosion scene that will be in the highly anticipated finale this week.
"There is no stopping Selina (Eula Valdes) from taking her revenge on Magda and her family. She is very determined to end the life of Via (Lauren Young) by planting a bomb on a bus that Via is boarding.
"The Pereiras are about to start anew it seems like they cannot be completely happy and peaceful as long as Selina is around.
"Will this be the end of Via? What other plans does Selina have in store for Magda?
"ABS-CBN's remake of Mula sa Puso has been rating highly and it consistently figures in the top 10 most watched programs nationwide on weekdays based on the data of Kantar Media.
"Last Sunday (Aug 7), the whole cast of Mula sa Puso gathered to take their final bow before fans on the ASAP Rocks stage.
"Some of the lead stars of the soap expressed their feelings and thoughts on the show's finale.
"If we can only keep on doing the show, but of course it has to come to an end. This is my first ever lead role in a teleserye and I am just happy to have spent it with such a great cast and team. MSP will forever remain in my heart," said Lauren Young.
ADVERTISEMENT - CONTINUE READING BELOW
"I am fulfilled yet very sad. I am really going to miss my co artists, directors, and especially our staff. Rest assured they will forever be a part of me. It was the perfect show for me as my coming home project with ABS-CBN," said Ariel Rivera.
"Director Wenn Deramas, on the other hand, gave an emotional and heart-felt message as he bids farewell to Mula sa Puso for the second time.
"I love both the first and current installments of MSP. They are like my kids who I took care of and nurtured and eventually have to let go. I'll miss it of course, but its impact on viewers will forever remain in their hearts," Wenn said.
"Don't miss the last episodes of Mula sa Puso after I Dare You on ABS-CBN."
Ed's Note: When content falls under "Press Statement," this means that the material is fully and directly from the company itself. The use of open-and-close quotation marks to envelope the entire text shows as much. This also means that PEP is not the author of the statement being read. PEP is simply providing the information for readers who may be interested.