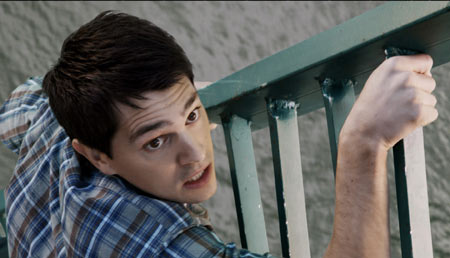 ---
PRESS STATEMENT FROM WARNER BROS:
"Nicholas D'Agosto is a compelling young actor who first came to audiences' attention when he starred in the second season of the hit NBC series Heroes and in From Prada to Nada opposite Camilla Belle. Now, he leads the young cast of New Line Cinema's Final Destination 5--the fifth installment of the successful horror franchise.
"In the film, Death is just as omnipresent as ever, first revealing its menacing reality to a group of coworkers headed for a corporate retreat. During the bus ride, Sam (D'Agosto) has a premonition in which he and most of his friends, as well as numerous others, die in a horrific bridge collapse. When his vision ends, events begin to mirror what he had seen, and he frantically ushers as many of his colleagues--including his friend, Peter (Miles Fisher), and girlfriend, Molly (Emma Bell)--away from the disaster before Death can claim them.
"But these unsuspecting souls were never supposed to survive and, in a terrifying race against time, the ill-fated group tries to discover a way to escape Death's sinister agenda.
"D'Agosto plays Sam, a young professional in the midst of a career crisis: sticking with a job at a paper factory that pays the rent, or following his passion to become a chef and moving to Paris. But Paris might cause him to lose the girl he loves, and that may be too big a price to pay.
"When we meet Sam, he is distracted because, while he's supposed to be setting up to go on this retreat, his girlfriend, Molly, is breaking up with him," offers D'Agosto. "Then as they get on the bus, he gets that pang of 'something doesn't feel right,' but shrugs it off. When Death starts taking out those around him, he gets really scared, because he doesn't understand why this is happening, what he's supposed to do about it or how to convince the FBI that he has nothing to do with the deaths of those around him. On top of all that, he's trying to make decisions about his life-for as long as it lasts, that is."
ADVERTISEMENT - CONTINUE READING BELOW
"Producer Craig Perry notes, "Nick's an engaging and personable guy, and that translated to Sam, which was key since the audience has to want to take this really frightening ride with him."
"D'Agosto smiles, "What I love about this franchise is that it leaves this big question open for the audience: 'Who or what is the entity that delivers this vision to these characters so that they can stave off Death just long enough for it to come and get them?' I think it's a fun question that fans can engage in and certainly something I won't try to answer...even though I have my own ideas about it."
"Opening across the Philippines on August 24 in 3D and regular format, Final Destination 5 is distributed worldwide by Warner Bros. Pictures, a Warner Bros. Entertainment Company."
Ed's Note: When content falls under "Press Statement," this means that the material is fully and directly from the company itself. The use of open-and-close quotation marks to envelope the entire text shows as much. This also means that PEP is not the author of the statement being read. PEP is simply providing the information for readers who may be interested.