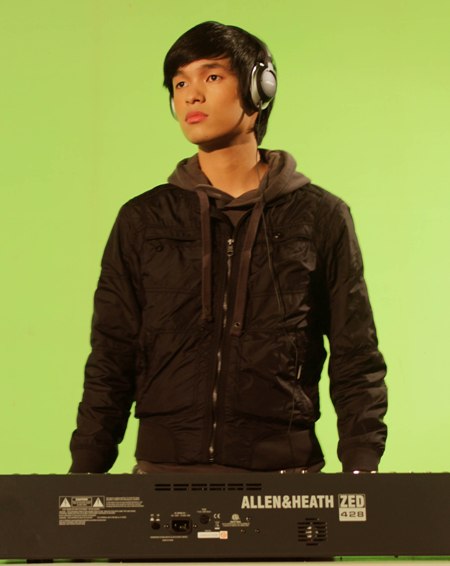 ---
PHOTO CAPTION: Rez Toledo, known more in the music scene as Somedaydream, is a breath of fresh air in the music scene. The 20-year-old Atenean is a gifted musician who writes and records his own music, which combines pop, dance, and electronica.
Musician Rez Toledo a.k.a. Somedaydream continues to mystify listeners.
What initially started as a simple hobby of writing, arranging, and recording songs in private has turned into something bigger and promising.
With the support of ex-Hale vocalist and manager Champ Lui Pio, Somedaydream has infiltrated hip radio stations, earned a spot in countdowns, released a debut music video titled "Hey Daydreamer," and performed in various Metro Manila and provincial venues--all these events happening in rapid succession, and with an album yet to be officially launched.
The wait, fortunately, is about to end for fans and curious listeners as the full album is being geared up to hit record bars anytime soon.
To complement the upcoming CD release, Somedaydream recently shot a music video for the second single titled "Delivery Boys."
This time, instead of bringing along friends as what they did in "Hey Daydreamer," the concept for "Delivery Boys" was simple yet technically intricate at the same time.
"It's just me in this video instead of having other people around," confided Rez.
"Me performing with different instruments, and then we'll provide graphics during the final edit to make the video more interesting."
The concept of "Delivery Boys" actually fitted Rez's personality as a musician and creative artist.
ADVERTISEMENT - CONTINUE READING BELOW
Somedaydream, after all, is not a full band, and is basically a one-man crew playing every available instrument per track.
Rez is also very proud of the song, saying, "It's my first song na hindi tungkol sa romantic love."
"Delivery Boys" tackles the Good Samaritan in all of us; that ability of ours to make others feel happy and loved either in simple or grand ways.
As a lyricist, Rez proudly mentioned that the song-which made use of English and Filipino in the lyrics-marked his personal growth as a songwriter.
For a young man who is new in the music business, the possibilities look endless, not to mention thrilling, and Rez is ready to embrace it all no matter how dizzying the pace is.
"I get to travel a lot lately to perform and I meet a lot of people. Iba-iba rin yung crowd and it's exciting," he smiled.
"There are a lot of surprises and I really hope to grow in this business and learn."
So surprising and exciting in fact that Rez took a long pause when asked to name a particular unforgettable experience he had so far as an artist.
"Any new experience is memorable... everything stands out, and that's fun."
SHARE THIS STORY " data-url="https://www.pep.ph/guide/at-a-glance/8712/someday-dream-releases-music-video-for-second-single-titled-delivery-boys" data-desc="Musician Rez Toledo aka Someday Dream releases debut music video "Hey Daydreamer"" data-image="https://contents.pep.ph/images2/guide/1313331454_Somedaydream-main.jpg"> " data-url="https://www.pep.ph/guide/at-a-glance/8712/someday-dream-releases-music-video-for-second-single-titled-delivery-boys" data-desc="Musician Rez Toledo aka Someday Dream releases debut music video "Hey Daydreamer"" data-image="https://contents.pep.ph/images2/guide/1313331454_Somedaydream-main.jpg"> " data-url="https://www.pep.ph/guide/at-a-glance/8712/someday-dream-releases-music-video-for-second-single-titled-delivery-boys" data-desc="Musician Rez Toledo aka Someday Dream releases debut music video "Hey Daydreamer"" data-image="https://contents.pep.ph/images2/guide/1313331454_Somedaydream-main.jpg">
SHARE THIS STORY
" data-url="https://www.pep.ph/guide/at-a-glance/8712/someday-dream-releases-music-video-for-second-single-titled-delivery-boys" data-desc="Musician Rez Toledo aka Someday Dream releases debut music video "Hey Daydreamer"" data-image="https://contents.pep.ph/images2/guide/1313331454_Somedaydream-main.jpg"> " data-url="https://www.pep.ph/guide/at-a-glance/8712/someday-dream-releases-music-video-for-second-single-titled-delivery-boys" data-desc="Musician Rez Toledo aka Someday Dream releases debut music video "Hey Daydreamer"" data-image="https://contents.pep.ph/images2/guide/1313331454_Somedaydream-main.jpg"> " data-url="https://www.pep.ph/guide/at-a-glance/8712/someday-dream-releases-music-video-for-second-single-titled-delivery-boys" data-desc="Musician Rez Toledo aka Someday Dream releases debut music video "Hey Daydreamer"" data-image="https://contents.pep.ph/images2/guide/1313331454_Somedaydream-main.jpg"> " data-url="https://www.pep.ph/guide/at-a-glance/8712/someday-dream-releases-music-video-for-second-single-titled-delivery-boys" data-desc="Musician Rez Toledo aka Someday Dream releases debut music video "Hey Daydreamer"" data-image="https://contents.pep.ph/images2/guide/1313331454_Somedaydream-main.jpg">