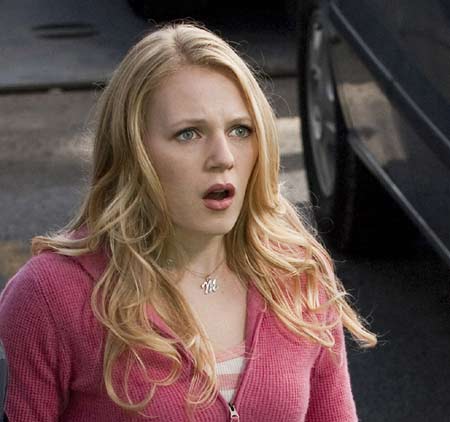 ---
PRESS STATEMENT FROM WARNER BROS:
"Best known for Frank Darabont's hit drama series The Walking Dead, and on the big screen in the chilling thriller Frozen, young actress Emma Bell now stars in New Line Cinema's Final Destination 5-- the fifth installment of the successful horror franchise.
"Bell has an ethereal look, a vulnerable beauty that helped to make the death of her character in the television series The Walking Dead one of the show's most memorable and agonizing moments, when she is killed by her own sister to prevent her from joining the zombie army. As soon as the filmmakers read her for the role in Final Destination 5, they knew she was perfect for the character of Molly, the romantic interest to Nicholas D'Agosto's Sam. "She's fantastic," says producer Craig Perry. "When we were going through the casting process and her name came up, we jumped at it. Emma has incredible eyes--she can sell a whole scene without saying a word."
"In the film, Death is just as omnipresent as ever, first revealing its menacing reality to a group of coworkers headed for a corporate retreat. During the bus ride, Sam (D'Agosto) has a premonition in which he and most of his friends, as well as numerous others, die in a horrific bridge collapse. When his vision ends, events begin to mirror what he had seen, and he frantically ushers as many of his colleagues--including his friend, Peter (Miles Fisher), and girlfriend, Molly (Bell)--away from the disaster before Death can claim them. But these unsuspecting souls were never supposed to survive and, in a terrifying race against time, the ill-fated group tries to discover a way to escape Death's sinister agenda.
ADVERTISEMENT - CONTINUE READING BELOW
"As Death casts its net around Sam's nearest and dearest, no one is excused from its macabre plan--except maybe the love of his life. Molly is a sweet girl who's deeply in love with her boyfriend but feeling that their life paths are moving in two different directions.
"Weighing in on Molly, Bell offers, "She lives in a small town and she's very comfortable with that. I don't think she ever really dreamed of moving to a city, or wanted to be part of something more. She's in love with Sam--who dreams of moving to Paris to become a chef--but she knows that he dreams bigger than she ever could, and isn't sure how to balance her love for him without holding him back from pursuing his goals. Molly knows that, given the choice, Sam would pick her over going to Paris. But she doesn't want to put him in that situation, so she makes that choice for him."
"Bell also notes that with this installment, the story holds genuine emotional weight. "What makes the Final Destination movies great is that they are not your usual stalker film," she says. "Yes, the characters are certainly being stalked, but there's no physical killer, no man chasing you with a knife. The killer is Death itself--it's an abstraction--and that's what makes it impossible to escape. In our movie, the characters are also really engaged in a moral struggle, as well as fighting to stay alive, and that gives the story greater substance."
ADVERTISEMENT - CONTINUE READING BELOW
"Opening across the Philippines on August 24 in 3D and regular format, Final Destination 5 is distributed worldwide by Warner Bros. Pictures, a Warner Bros. Entertainment Company."
Ed's Note: When content falls under "Press Statement," this means that the material is fully and directly from the company itself. The use of open-and-close quotation marks to envelope the entire text shows as much. This also means that PEP is not the author of the statement being read. PEP is simply providing the information for readers who may be interested.