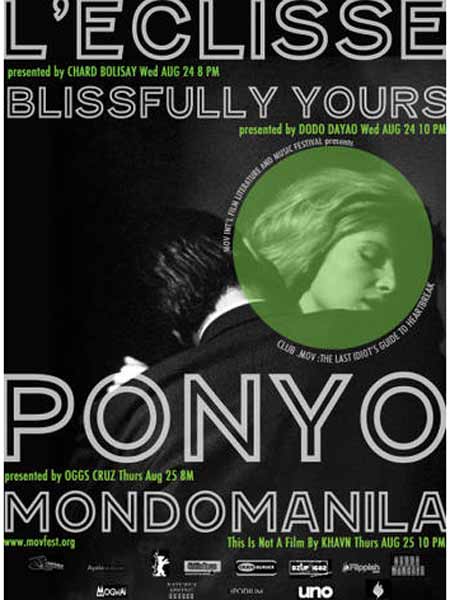 ---
You don't know movies. At least, not movies like these. A woman moves to Paris, and the clockmaker who loves her sets all the clocks in his shop to Paris time. A factory worker loses a finger in a sardine packing factory, finds another's finger in a can, and sews it onto his hand. These are only a few of the stories that get told and re-told in Club.MOV's The Idiot's Guide to Heartbreak.
Club.MOV, a 4-day screening held on the last week of every month in Mogwai Cinemathique in Cubao Expo, is the brainchild of independent filmmaker and festival director Khavn De La Cruz.
"The idea is to show films you would never see in theaters, free of charge," says Khavn. "These are films that our programmers have handpicked; some are old, others are new. Most, if not all, are personal favorites."
Khavn is quick to give credit where credit is due: to the three programmers who have been carefully--some might even say lovingly--choosing what to show at every Club.MOV screening. "Dodo Dayao, Chard Bolisay, and Oggs Cruz put a lot of thought into every selection. There is no shortage of material; there are many wonderful little films out there, and this makes it all the harder to pick out the ones with the most heart."
ADVERTISEMENT - CONTINUE READING BELOW
What of Club.MOV's twin themes of love and loss? "There is no escaping heartbreak," laughs Khavn. "But think about it: if you celebrate finding love, why not celebrate loss?" And true enough, no one celebrates loss like Club.MOV's three programmers Dodo, Chard, and Oggs who put together a stellar line-up of heartbreaking films month after month after month.
So now you know--it's not just love that break your heart; art does, too. Get your heart broken in the happiest way possible at Club.MOV's Idiot's Guide to Heartbreak 6, and while you're at it, say hello to the men behind the selection. Here is the schedule for upcoming screenings.
Wednesday, August 24
8pm
L'ECLISSE (Michelangelo Antonioni, Italy, 1962)
Curated by Chard Bolisay
10pm
BLISSFULLY YOURS (Apichatpong Weeresethakul, Thailand, 2002)
Curated by Dodo Dayao

Thursday, August 25
8pm
PONYO (Hayao Miyazaki, Japan, 2008)
Curated by Oggs Cruz

10pm
MONDOMANILA (Special Preview Screening)
This is not a film by Khavn


Venue: Mogwai Cinematheque, Cubao Expo, General Romulo Avenue, Araneta Center, Cubao, Quezon City
ADVERTISEMENT - CONTINUE READING BELOW
FREE ADMISSION.
The 4th .MOV International Film, Music, & Literature Festival aims to celebrate cinema, music, & literature exclusively. It will run from September 1 to 6, 2011.
For more information about the free screenings as well as to keep up to date on the six-day festival's activities, check out www.movfest.org and http://www.facebook.com/MovFest. To volunteer for the upcoming festival, email admin@movfest.org.