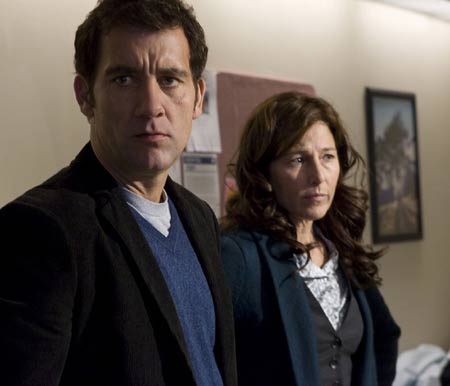 ---
PRESS STATEMENT:
"Oscar-nominated actors Clive Owen (Closer), Catherine Keener (Capote) and Viola Davis (Doubt) star in Millenium Films' new psychological thriller "Trust," a controversial film about the perils of online relationships. The timely and critically acclaimed movie will be shown soon exclusively at Ayala Malls Cinemas (Glorietta 4, Greenbelt 3 and Trinoma).
"Safe and sound in their suburban home, Will and Lynn Cameron (Owen and Keener) used to sleep well at night, trusting their children were protected. Will, in particular, was comforted by the fact that he and Lynn raised their three bright children, and that once the doors were locked, and the alarm was set, nothing--absolutely nothing--was going to harm his family.
"When his 14-year-old daughter, Annie (Liana Liberato), made a new friend online - a 16-year-old boy named Charlie whom she met in a volleyball chat room--Will and Lynn didn't much think of it. They discussed her friendship with her, assuming this is normal with teenagers who connect through the Internet.
"After weeks of communicating online, Annie becomes enraptured by Charlie and finds herself drawn to him more and more. Slowly, she learns he is not who he claims to be; yet, Annie remains intrigued by Charlie, even if the truth behind him is uncovered. Shocked into disbelief, her parents are shattered by their daughter's actions and struggle to support her as she comes to terms with what has happened to her once innocent life.
"Trust producer and director David Schwimmer passionately supports the Rape Foundation of Santa Monica through serving on their Board of Directors and through various fundraising and awareness projects. Through his work, he has met many victims and their families, and has heard many stories, but a few years ago one particular father's account stood out for him and inspired the actor/director to create a film about online predators in today's internet age.
ADVERTISEMENT - CONTINUE READING BELOW
"He explains, "One of our invited speakers was a father from the community who spoke about the process of coming to terms with his daughter being groomed, and subsequently raped, by an internet predator. He described his conflicting feelings of guilt, rage, pain, impotence and responsibility and how it nearly destroyed him and his family. His incredibly frank and revealing story profoundly affected me, and I realized then that I had found an unusual path into dramatizing this delicate and difficult subject matter in a way that everyone can relate to."
Ed's Note: When content falls under "Press Statement," this means that the material is fully and directly from the company itself. The use of open-and-close quotation marks to envelope the entire text shows as much. This also means that PEP is not the author of the statement being read. PEP is simply providing the information for readers who may be interested.