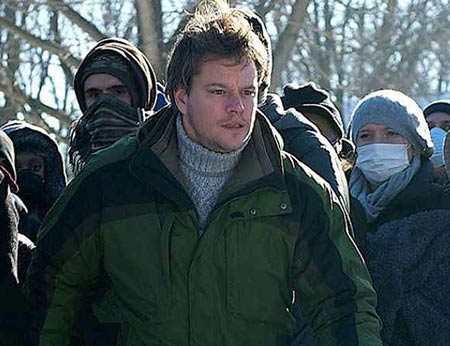 ---
PRESS STATEMENT FROM WARNER BROS:
"An international traveler reaches into the snack bowl at an airport bar before passing her credit card to a waiter. A business meeting begins with a round of handshakes. A man coughs on a crowded bus...
"One contact. One instant. And a lethal virus is transmitted, in Warner Bros.' new global thriller Contagion.
"When Beth Emhoff (Gwyneth Paltrow) returns to Minneapolis from business in Hong Kong, what she thought was jet lag takes a virulent turn. Two days later, she's dead in the ER and the doctors tell her shocked and grieving husband (Matt Damon) they have no idea why.
"Soon, others exhibit the same mysterious symptoms: hacking coughs and fever, followed by seizure, brain hemorrhage...and ultimately, death. In Minneapolis, Chicago, London, Paris, Tokyo and Hong Kong, the numbers quickly multiply: one case becomes four, then sixteen, then hundreds, thousands, as the contagion sweeps across all borders, fueled by the countless human interactions that make up the course of an average day.
"A global pandemic explodes.
"At the U.S. Centers for Disease Control and Prevention, researchers mobilize to break the code of a unique biological pathogen as it continues to mutate. Deputy Director Cheever (Laurence Fishburne) tries to allay the growing panic despite his own personal concerns, and must send a brave young doctor (Kate Winslet) into harm's way. At the same time, amid a rising tide of suspicion over a potential vaccine--and who gets it first--Dr. Leonora Orantes (Marion Cotillard) of the World Health Organization works through the network of connections that could lead back to the source of what they're dealing with.
ADVERTISEMENT - CONTINUE READING BELOW
"As the death toll escalates and people struggle to protect themselves and their loved ones in a society breaking down, one activist blogger (Jude Law) claims the public isn't getting the truth about what's really going on, and sets off an epidemic of paranoia and fear as infectious as the virus itself.

"I think it's always compelling to watch people struggling with a real-world problem, especially one with a ticking clock, where the stakes couldn't be any higher," states director Seven Soderbergh.
"The inspiration for Contagion was sparked by a conversation, he believes, "anyone can relate to." While working together on their previous project, "The Informant!," Soderbergh and screenwriter Scott Z. Burns did a fair amount of traveling. Burns recalls, "Steven and I talked about how often it seems people get sick when they travel. So the idea began as an exploration of the vulnerability of human beings in public places. I think all of us, when we come down with something, tend to think back over the past few days and who we spoke to, sat next to, or touched. It's human nature."
"Sharing airspace with a contagious passenger or handling objects that harbor bacteria and then unconsciously rubbing our eyes can result in an annoying cold, but, the two began to speculate, what if these common, innocent interactions were circulating something much worse? And what if it rapidly expanded to worldwide proportions?
People could be dead before they knew what hit them.
"Even more insidious, in the hours between contact and the onset of symptoms, it would be impossible to tell who had it...or who would get it next.
ADVERTISEMENT - CONTINUE READING BELOW
"Opening across the Philippines in September, Contagion is distributed by Warner Bros. Pictures, a Warner Bros. Entertainment company."