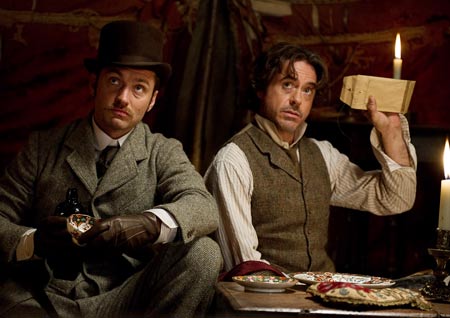 ---
PHOTO CAPTION: Jude Law (left) and Robert Downey Jr. will reprise their roles in Sherlock Holmes: Game of Shadows.
PRESS STATEMENT FROM WARNER BROS:
"Warner Bros. Pictures International has crossed the $2 billion threshold at the international box office, as it gears up for a fourth quarter that includes such highly anticipated releases as Steven Soderbergh's Contagion, Clint Eastwood's J. Edgar, George Miller'sHappy Feet Two, Guy Ritchie's Sherlock Holmes: Game of Shadows, and Garry Marshall's New Year's Eve, among others. The Division hits this benchmark for the fourth time. The announcement was made today by Veronika Kwan-Rubinek, President of International Distribution, Warner Bros. Pictures.
"This achievement follows the release of Harry Potter and the Deathly Hallows - Part 2, the final adventure in the blockbuster film series, which smashed international records to become not only the biggest Harry Potter film but the highest grossing film of the year and the third-highest international release of all time, with an astounding $857 million and counting. The Studio kicked off the summer with Todd Phillips' The Hangover Part II, which beat its predecessor to gross $327 million internationally and become the highest-grossing R-rated movie of all time; followed by the surprise comedy hit Horrible Bosses, which to date has grossed over $35 million internationally, with many markets still to open.
"Even beyond the amazing performance of our final Harry Potter film, this has been a spectacular year for the Studio," Kwan-Rubinek said. "These incredible numbers are a testament to the diverse and powerful mix of films that our studio releases, along with the hard work and insight of our international distribution teams around the world. We're tremendously gratified to reach this benchmark with so many exciting films yet to come."
ADVERTISEMENT - CONTINUE READING BELOW
"Reaching this number so early in the year is an incredible achievement for our Studio," said Sue Kroll, Warner Bros. Pictures' President, Worldwide Marketing. "We could not have done it without the care and ingenuity of our marketing teams around the world, who have delivered inspired campaigns for every release, from staging a global event for Harry Potter to making each of our wide variety of films into hits. We're thrilled with these results and look forward to the rest of our 2011 slate."
"Warner Bros Pictures International has been the market leader in six of the last 10 years. The Division has surpassed $1 billion in grosses a total of 14 years, 11 of which were consecutive years, and crossed $2 billion four times, including 2004, 2007, 2010 and 2011. At $2.93 billion, last year's record remains the highest ever international gross for a single studio. This year, the Division crossed the $2 billion threshold two months ahead of its record for last year."
Ed's Note: When content falls under "Press Statement," this means that the material is fully and directly from the company itself. The use of open-and-close quotation marks to envelope the entire text shows as much. This also means that PEP is not the author of the statement being read. PEP is simply providing the information for readers who may be interested.