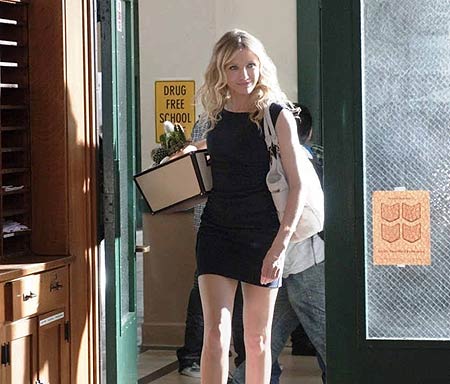 ---
PRESS STATEMENT FROM COLUMBIA PICTURES:
"Elizabeth Halsey isn't a teacher because it's noble--it's just a job, a necessity: she has to pay the rent," says Cameron Diaz, who plays a teacher redefining education in Columbia Pictures' new raunchy comedy Bad Teacher. "In fact, her whole motivation is to find a way that she never has to teach again."
"The opportunity to play a character that is so over-the-top outrageous but at the same time fully drawn is what appealed to Diaz. Diaz enjoys pushing the envelope--as evidenced in the worldwide hit There's Something About Mary--but she says that this kind of role doesn't come along all that often. "You just don't come across parts like this. It just doesn't happen. And particularly for women. The script is just so subversive and brilliant and so funny. By the time I finished reading it for the first time, there was no question--I had to play her."
"And how misguided is Elizabeth? "She's driven to get money so that she can get a new pair of boobs," Diaz explains. "She's looking for a guy who is rich enough to take her away so she never has to work again, and she's convinced that if she gets those D-cups they'll be her ticket out."
"Still not convinced by of this teacher's villainy? Check out below "Elizabeth Halsey's Top Ten Teaching Tips."


There is no heel too high, no sweater too tight, no neckline too low. Besides, it's nothing these kids haven't seen on the internet.

Movies are the new books. You would be surprised how educational Stand By Me and Dangerous Minds really are.

Stay hydrated: keep a bottle of your favorite liquor in your desk drawer.

For those moments when the booze doesn't cut it, keep an emergency J in your purse. It's medicinal, and it's OK as long as you do it in the gym.

Always be honest with your students. If they suck, they should know.

Get your rest. If you stayed out too late the night before, sleep in class.

Throwing things at your students prepares them for the real world.

If you are the school's top fundraiser, they expect you to skim a little off the top.

Cut corners wherever you can. Like top ten lists... just do nine. No one will notice.
"Opening across the Philippines in August, Bad Teacher is distributed by Columbia Pictures, local office of Sony Pictures Releasing International."
Ed's Note: When content falls under "Press Statement," this means that the material is fully and directly from the company itself. The use of open-and-close quotation marks to envelope the entire text shows as much. This also means that PEP is not the author of the statement being read. PEP is simply providing the information for readers who may be interested.
ADVERTISEMENT - CONTINUE READING BELOW