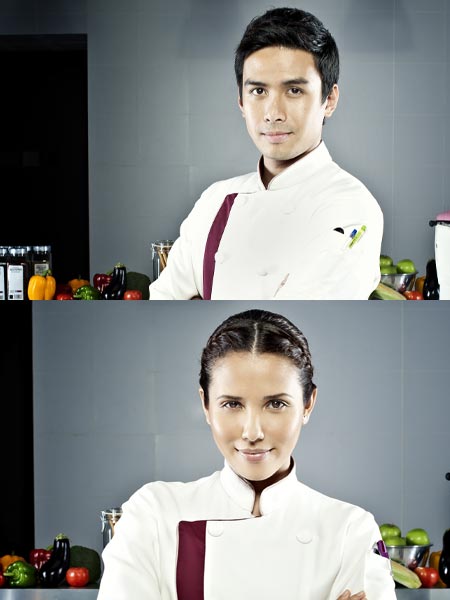 ---
PHOTO CAPTION: Christian Bautista (top frame) and Karylle are some of the Filipino celebrities included in the cast of the Pan-Asian TV series The Kitchen Musical.
SINGAPORE—Karylle and Christian Bautista underwent four weeks of intense acting and dancing rehearsals, as well as a kitchen boot camp to prepare for The Kitchen Musical. The first Pan-Asian TV series is scheduled to air on seven countries, including ABS-CBN and Studio 23, in the region and 18 territories via AXN this October.
During the August 18 media launch of the series held in Singapore, it was revealed that Ben Silverman's Electus is planning to bring the Asian format to the United States.
Electus is the producer of the hit TV series Ugly Betty (which originally came from Colombia) and The Office (originally from the United Kingdom).
In an interview with The Hollywood Reporter, Silverman was quoted as saying, "We are pleased to add this compelling new series to our fast-growing slate of high concept, international programming as The Kitchen Musical has universal appeal that will resonate greatly with the global marketplace."
During the press conference, the first episode earned positive feedback from viewers.
After watching the said episode, Carlo Orosa, Head of STAGES Talent Management that handles the careers of Christian and Karylle, said, "I am very proud of both Karylle and Christian because of what they have showed here. The Kitchen Musical is set to catapult Karylle's international career and further establish Christian as an Asian Idol. It's like we landed on the moon with this project."
ADVERTISEMENT - CONTINUE READING BELOW
Produced in Singapore by The Group Entertainment, The Kitchen Musical fuses music, dance, drama, comedy to come up with a TV series targeted for regional and international markets.


In the show, Karylle plays Maddie, a Paris-trained Sous Chef who works for her father's restaurant called The Avilon. Meanwhile, Christian is cast as her childhood friend, Sous Chef Daniel. The series also features Filipino talents such as Ikey Canoy, Thou Reyes, and Art Acuña.
Broadway star Stephen Rahman Hughes of Bombay Dreams is the other lead character in the story.
Karylle and Christian shared that this The Kitchen Musical stint has further honed their craft as performers.
"We all worked hard for this show, and we're very happy that finally, after two months, we had this chance to give people a glimpse of what we have been doing," says Karylle. "It gives us great joy that we represent our country in this project."
Christian further adds, "You will see me and Karylle in a very new light in this musical. It's exciting."
Also present during the Media Launch were Studio 23 Head March Ventosa, Universal Records General Manager Kathleen Dy-Go, and David Cosico, personal manager of Karylle.
(CLICK HERE to view more photos of The Kitchen Musical)