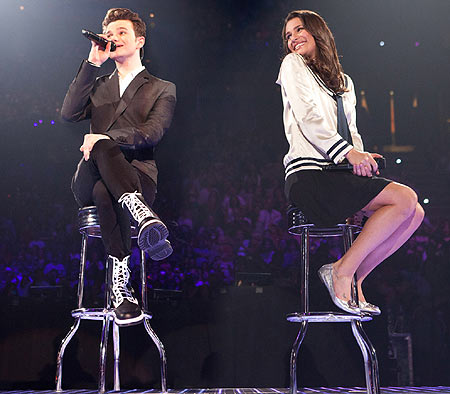 ---
PRESS STATEMENT FROM 20TH CENTURY FOX:
"The iconic Glee television series is now a major motion picture in 3D. Dubbed as Glee: The 3D Concert Movie, the movie is filmed during the recent concert tour of the hit singing teens and revolves around McKinley High School's singing and dancing Glee Club, a diverse group of charismatic and talented teenagers, all underdogs with high wattage star power.
"Tapping into the magical quality of the TV series, Chris Colfer (Kurt Hummel) Lea Michele (Rachel Berry) and the other members of the Glee Club belt out ballads, show tunes and a rocking blend of sensational pop songs, all of course familiar from the show. They include covers of numbers that include Paul McCartney's 'Silly Love Songs' Katy Perry's 'Teenage Dream' and Journey's 'Don't Stop Believin', which was Glee's first hit.
"Chris Colfer and Lea Michele who hilariously play their characters Kurt Hummel and Rachel Berry in the hit television series Glee stop during their live US tour for a short q&a to talk about the new film Glee: The 3D Concert Movie and the show that has changed their lives.
Q: What can fans expect from the movie?
MICHELE: "The movie is a documentation of our stage performance in which we are singing live and dancing to the popular songs, mainly from the second season of GLEE. We are really proud of the movie, I think that fans should definitely expect the heart and the truth of GLEE, but live on stage."
ADVERTISEMENT - CONTINUE READING BELOW
Q: How exciting is it doing the concert when you know it is being filmed for the big screen?

COLFER: "I tried to treat the concert that they were shooting for the movie like any other concert. But it was nerve-racking and there was more pressure than usual because they were filming everything. It is challenging to do things live honestly, but there is a great sense of freedom to get out there and have fun and just do what you want with it."
Q: How thrilling is it performing live on tour?
MICHELE: "Coming from my theater background, to be back on the live stage is fantastic. It has been thrilling but pretty exhausting. But I think honestly, and I know it sounds really cheesy, what gets us through it all and what refuels us every night is getting that energy from our audience."
COLFER: "I love doing the concerts. Doing the show is fantastic but I used to do community theater and I definitely miss the instant gratification of a live audience. So it is great to go out and do the concerts and physically see the fans, the kids that we represent on the show."
Q: What is it about your characters and the show do you think that has struck such a powerful chord around the world?
COLFER: "I think the world is now more willing to admit that there are more Kurts and more Rachels out there than people previously wanted to admit and I think our characters have a very strong vulnerability. That is what anyone with aspirations can relate to."
ADVERTISEMENT - CONTINUE READING BELOW
Q: Can you discuss your own high school experience and do you have any advice to offer your teenage fans?
COLFER: "I wouldn't be the one to ask because I had a horrible experience growing up. I was as awkward as it gets. My big lesson was realizing 'this too shall pass', knowing it was going to be over sooner rather than later. It helped that I had goals and aspirations for myself, I focused on those and on the future. I was very far sighted when I was at high school. My grandmother had an amazing quote which she gave me: 'non illegitamati carborundum' which is Latin for don't let the bastards get you down."
MICHELE: "I got through high school pretty unscathed. I was in a high school that was very GLEE-like. But I think that the most important advice I could give and we definitely show this on our show, is to know who you are. Don't let what other people think is cool or right influence you or change how you look or who you are or what you do. I think that is how I survived high school."
"Chris Colfer grew up in California and performed in regional theater productions. In high school, he was the president of the writers club, served as editor of the school literary magazine and was a speech and debate champion. He made his television debut on GLEE and received a Golden Globe award as well as an Emmy and SAG Award nominations.
ADVERTISEMENT - CONTINUE READING BELOW
"Lea Michele made her Broadway debut as 'Young Cosette' in Les Misérables at eight years old. She has starred on stage in productions such as Spring Awakening and has performed many solo concerts. For her work on GLEE she received two Golden Globe nominations and an Emmy nomination.
"Glee: The 3D Concert Movie opens September 21 in theaters from 20th Century Fox to be distributed by Warner Bros."
Ed's Note: When content falls under "Press Statement," this means that the material is fully and directly from the company itself. The use of open-and-close quotation marks to envelope the entire text shows as much. This also means that PEP is not the author of the statement being read. PEP is simply providing the information for readers who may be interested.