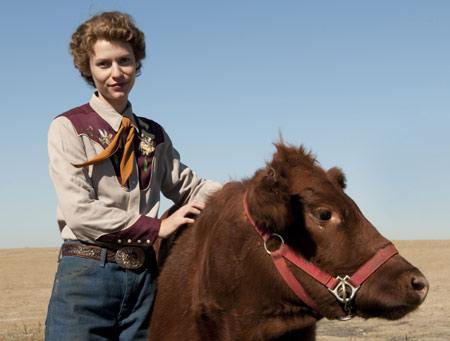 ---
PHOTO CAPTION: In the HBO Original film Temple Grandin, Claire Danes delivers a superb performance as a woman with autism. Claire won acting awards for her portrayal of an American doctor who created a more humane livestock slaughter process.
Biographical works—books, movies, and television programs—are always interesting. Whether it is about the life-story of a musician, a writer, an actor, or even a cold-blooded murderer, the authenticity of a tale being told greatly outweighs even a well-written piece of fiction.
Most of us are perhaps unfamiliar with a young woman named Temple Grandin, much more her heartbreaking yet inspiring journey to overcome enormous odds. But through HBO, viewers will soon get to know her story as depicted by Claire Danes.
Born on August 29, 1947 in Boston, Massachusetts, Grandin was diagnosed with autism at an early age.
By definition, autism is a "disorder of neural development characterized by impaired social interaction and communication, and by restricted and repetitive behavior."
When Grandin was diagnosed with the said disorder, and given the fact that it was in the 1950s, the doctor suggested admitting her in an "institution"—the term connotes a place or establishment dealing with insane patients.
Grandin's mother, however, tirelessly encouraged her daughter to live a normal life by enrolling her in schools attended by normal students.
It wasn't of course easy, and Grandin's fragile condition made her an easy target for ridicule and distrust when it came to her intellectual abilities.
But in the end, Grandin rose above these adversities to become a respected name in the field of animal science, aside from being a best-selling author, a professor at the Colorado State University, and one of Time Magazine's 100 Most Influential People for 2010.
ADVERTISEMENT - CONTINUE READING BELOW
MASTERFUL PERFORMANCE. Grandin's inspiring life story is the inspiration behind HBO's original production titled simply as Temple Grandin.
Playing the lead role is actress Claire Danes, whose phenomenal portrayal of the celebrated poster girl of autism earned for her acting awards in the primetime Emmys, Golden Globe, and Screen Actors Guild awards.
Danes completely embraced her character to the hilt, prompting Grandin to remark that seeing the film and her image on screen felt "like going back in a weird time machine."
To a viewer, watching the biopic is like seeing the real Grandin and actually sharing her pain in the beginning and triumphs in the end.
Claire Danes the actress was totally consumed by the role, which made her performance even more riveting.
The hours of research devoted by Claire into the project paid off with great results as she convincingly jumped from being curious, funny, smart, confused, lonely, and livid—even combining or interchanging the mentioned elements at the drop of a hat.
HUG MACHINE. The film focuses on Grandin's disorder and background, and its eventual correlation to her chosen career path: animal science.
One of the biggest challenges confronting a director when doing a biopic is how to trim down the details and focus on one particular aspect while still managing to highlight the legacy of a subject's life.
In this case, Director Mick Jackson and writers Christopher Monger and Merritt Johnson zoomed in on Grandin's early display of brilliance with the invention of the "hug machine" and how it influenced her future work in the field of animal welfare and management of autism especially in children.
ADVERTISEMENT - CONTINUE READING BELOW
The development of the "hug machine" in itself was fascinating.
Grandin initially developed the device as a personal tool to calm her down every panic attacks, the same way that a cattle, she observed, would relax when confined in a squeeze chute.
This concept plus extensive research on cattle behavior would later on spawn Grandin's design of the sweeping curved corrals intended to ease the stress in animals prior to being slaughtered.
"I think using animals for food is an ethical thing to do, but we've got to do it right. We've got to give those animals a decent life and we've got to give them a painless death. We owe the animal respect," said Grandin.
RAISING AWARENESS. At the special screening held last August 23 at the Quality Life Discoveries in Project 4, Quezon City, HBO Asia executive Angela Poh reiterated the network's commitment to deliver quality programs that are entertaining and substantial at the same time.
What makes Temple Grandin special, however, is the film's message of addressing autism with an open mind.
While it's true that not everyone who is afflicted with autism share Grandin's high level of intelligence, the opportunity to live a normal life and be productive are available even to those who have disabilities.
Temple Grandin is not so much about the protagonist's brilliant mind and accomplishments. Rather, the film applauds the triumph of the human spirit and one person's ability to inspire and make a difference in the lives of others, and that includes even animals.
ADVERTISEMENT - CONTINUE READING BELOW
Grandin sums up her life with a quote that might as well serve as the battle cry of people with autism all over the world: "I am different, but not less."
Catch the Asian premiere of Temple Grandin on September 2 (Friday), at 10:00 p.m. on HBO.