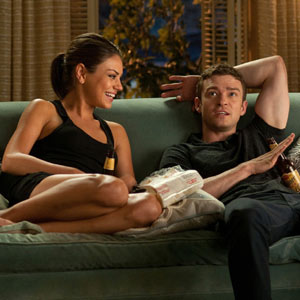 ---
PRESS STATEMENT FROM COLUMBIA PICTURES:
"Dylan (Justin Timberlake) and Jamie (Mila Kunis) think it will be easy to add sex to their friendship, but they discover that getting physical always leads to complications, in Columbia Pictures' sizzling, romantic comedy Friends with Benefits.
"Director Will Gluck was looking for another project, having just finished editing Easy A, when the script for Friends with Benefits came to his attention. "I've always wanted to do a movie that was an update of the old Hepburn and Tracy movies," Gluck explains, citing his love for the sexy, banter-filled comedies of Hollywood's golden past. So with its pointed dialogue, enticingly adult comic situations and charming yet flawed characters, "Friends with Benefits" certainly hit the nail on the head conceptually. Dylan and Jamie are the Hepburn/Tracy characters of our time, with our sensibilities, aspirations, and most of all this generation's views on family, friendship, love, and sex.
"Gluck knew that essential to the success of the movie would be casting actors who would match the dynamic and flirtatious chemistry captured in those landmark films. Gluck explains, "Justin and Mila had such good chemistry together, it's unbelievable. It was like magic. You just want to watch them do anything together. The most important part of this movie is when they're on screen together." Gluck goes on, "I hit the lottery with those two together. Mila's funny, smart, charismatic, beautiful, goofy. It's so fun to watch her, especially with Justin."
"Tucked away into the movie are references to the great classic films of our current generation--not to mention a fictional movie-within-the-movie Jamie and Dylan repeatedly watch that hilariously covers every romantic comedy trope in the book--Friends With Benefits asks: does being cynical of love's clichés make you blind to the genuine article? "These two characters know that they're going through something that people have gone through in the past," says Gluck. "They are also very cognizant of the fact that they are in a relationship without commitment, just having sex, and that it's probably going to end badly."
ADVERTISEMENT - CONTINUE READING BELOW
"Gluck continues, "So even though there are romantic undertones, the characters are both very cynical about it. Jamie loves watching romantic comedies, but she doesn't buy into the idea that it exists. She believes that movies are all fairytales."
"Mila Kunis laughs as she points out the irony, "The movie references other films so much, that life starts imitating art a little for these two, but they're so cynical, they don't even see it." At its core though, she says, "chances are you don't have that fairytale romance." Kunis goes on, "This is a very organic version of how two people meet and how things evolve. It's very much the truth."
"Justin Timberlake sees a stealth aspect to the movie's fun and games. "I think the heart of this film sneaks up on you," concludes Timberlake. "I think that that's what will get audiences: before they know it, they're completely invested in these characters because they're so likeable."
"What of the notion of "friends with benefits?" Is it really possible for two people to be boldly, bodily intimate while escaping the possibility of being hurt or the responsibility of having hurt someone else? Emotionally, he can't say, but physically, Timberlake offers a clue: "Sex without emotion is painful," he laughs.
"Kunis agrees, adding, "I think I hurt my back. You want to talk about the un-sexiest sex scenes? Us for two weeks. At one point I was like, 'I don't even know what to say to you, I can't feel my leg.' So I would say "friends with benefits" does not work in life!"
ADVERTISEMENT - CONTINUE READING BELOW
"Opening soon across the Philippines, Friends with Benefits is distributed by Columbia Pictures, local office of Sony Pictures Releasing International."
Ed's Note: When content falls under "Press Statement," this means that the material is fully and directly from the company itself. The use of open-and-close quotation marks to envelope the entire text shows as much. This also means that PEP is not the author of the statement being read. PEP is simply providing the information for readers who may be interested.