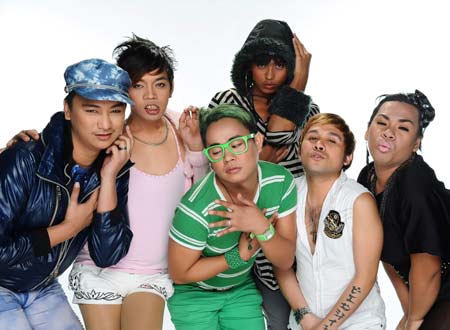 ---
A group called Wondergays, known for being singing novelty sensations, has already released its album in record bars and other musical outlets.
The said "gay band" is composed of members known simply as Blue, Pink, White, Black, Gray & Green.


The album contains four cuts which include Pare, Kiyeme Lang Yon, Hi, Hello, Oh Lala and its carrier single Blind Item. Another LDG and Entertainment Recording Co. talent, Blanktape, composed all the songs in the album.



The album's carrier single is becoming popular among radio and television talk shows.
In fact, "Blind Item" has been used as the theme song of the TV5 talk show Juicy. It is also played regularly by Tita Swarding during his Sunday show at DZRH-666 Khz which airs on RHTV.
LDG is already preparing the group's first major concert this October. And because Vice Ganda is the idol of the group, the members are willing to show their talent in comedy. The Wondergays also hope to do a showdown with their idol Vice Ganda through a concert in the future.
ADVERTISEMENT - CONTINUE READING BELOW
For event/show bookings call LDG Productions and Entertainment Recording Co. Tel.Nos. 02-4136791/441-1276 or text nos. Mobile Nos. 09238997172/09237305384/09327815341. Look for Maricon Cabalejo/Connie Cabalejo.