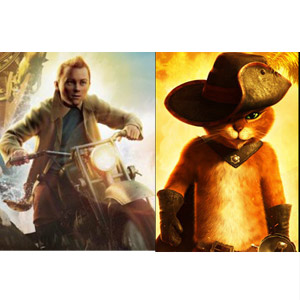 ---
With 2011 already beyond its halfway mark, Paramount Pictures proudly unveiled its lineup of films that will cover the remainder of the year, and one that will be exhibited in 2012.
PEP.ph (Philippine Entertainment Portal), together with representatives from other media outfits, had the privilege to witness a sneak peek of these forthcoming movies last August 24 at Cinema 1 of the Podium Mall along ADB Avenue in Ortigas, Pasig City.
This has been a good year for Paramount Pictures as proven by the box-office success of the movies Thor, Captain America: The First Avenger, Super 8, Cowboys and Aliens, Kung Fu Panda 2, and The Transformers: Dark of the Moon.
Buoyed up by the support shown by the Filipino movie viewing public, the international film production and distribution company proudly highlighted four of its soon-to-be shown pictures: Footloose, The Adventures of Tintin, Puss in Boots, and The Devil Inside.
FOOTLOOSE. Kenny Wormald and Dancing with the Stars two-time winner Julianne Hough incorporate dancing with romance to resurrect the classic 1984 musical-drama film, Footloose.
Set in a fictional location called Beaumont in Tennessee, Boston native Ren McCormack (Kenny Wormald) finds himself adjusting from city life to small town lifestyle.
Ren learns that an ordinance prohibiting loud music and dancing was implemented a year ago by local authorities following a tragic accident involving five teenagers.
This gives Ren the motivation to challenge the regulation by means of expressing himself through loud music and dancing. Local kids and teenagers soon join Ren and in the process revitalize their passion for dancing accompanied by beats and rhythm.
Things become even more interesting when Ren falls in love with Ariel Moore (Julianne Hough)—a great dancer, who incidentally is the daughter of one of the vocal proponents of the city ordinance, Reverend Shaw Moore (Dennis Quaid).
In previous interviews, director Craig Brewer has said that their version of Footloose remains "loyal" to original story of the 1984 version, while making sure at the same time that they incorporate contemporary touches to make the film appealing to modern youngsters.
ADVERTISEMENT - CONTINUE READING BELOW
THE ADVENTURES OF TINTIN. Legendary film director Steven Spielberg ventures into 3D animation via The Adventures of Tintin.
This action-adventure film is an adaptation of the classic European comic books created by Belgian artist Georges Remi, who wrote under the pseudonym Herge.
The comic series was published from 1929 to 1976, and is universally recognized as one of the biggest comic strip franchises even today.
A self-confessed huge fan of the said comic book, Spielberg was instantly smitten by the art work even though he couldn't understand its French text.
Since its emergence in 1929, the series has been translated into more than 80 languages. The copy owned by Spielberg in 1981 was written in French.
Interestingly, Georges Remi—who was unimpressed with the early live film version of his creation—was also a fan of Spielberg, and thought that the award-winning director's profile and creative mind perfectly suited the comic strip's spirit.
Remi, unfortunately, passed away on March 3, 1983—the same week he was supposed to meet Spielberg.
Still, Spielberg was able to acquire the rights when it was handed to him by the late Belgian writer-artist's widow.
It took years and many pre-production discussions before Spielberg was finally able to recreate the beloved comic strip on screen with the help of fellow director-producer Peter Jackson (whose film credits include The Lord of the Rings and King Kong) and co-producer Kathleen Kennedy.
Jackson's company, Weta Digital, provided the state of the art computer animation effects, making use of the motion capture technique—which in filmmaking is described as the process of "recording actions of human actors, and using that information to animate digital character models in 2D or 3D animation."
Lending their voices to the film are Jamie Bell, Andy Serkis, Simon Pegg, Nick Frost, Daniel Craig, Tony Curran, Toby Jones, Gad Elmaleh, Mackenzie Crook, Daniel Mays, Cary Elwes, Phillip Rhys, and Ron Bottitta.
ADVERTISEMENT - CONTINUE READING BELOW
PUSS IN BOOTS. Antonio Banderas and Salma Hayek seemingly revisit their Mariachi Trilogy affiliation, albeit this time, in a light-hearted and animated manner courtesy of the 3D computer-animated adventure film, Puss in Boots.
Banderas and Hayek—who previously worked with each other in the action-thriller films Desperado (1995) and Once Upon a Time in Mexico (2003)—topbill this new DreamWorks Animation produced project.
Fans of the Shrek series are already familiar with this swashbuckling cat, who is now headlining his own movie complete with new supporting characters.
In the movie, Puss learns from a group of pub thugs about the existence of a notorious outlaw couple named Jack and Jill (voiced over by Billy Bob Thornton and Amy Sedaris), and in their possession are seeds that can destroy the world.
Puss is soon reunited with his old friend turned nemesis Humpty Alexander Dumpty (Zach Galifianakis), who introduces him to a fellow cat and eventual love interest named Kitty Softpaws (Salma Hayek).
The three aim to foil Jack and Jill's evil schemes through a series of exciting adventures designed to captivate young and adult viewers.
The main protagonist, Puss, is actually loosely based on the character created by fairy tale pioneer, French author Charles Perrault.
Directing Puss in Boots is animator, screenwriter, storyboard artist and voice actor Chris Miller.
THE DEVIL INSIDE. The critically-acclaimed 1973 horror film The Exorcist undoubtedly sets the bar when it comes to movies tackling on the subject of demon possession.
Paramount's upcoming horror flick titled The Devil Inside embraces this popular and controversial genre told in documentary style.
The movie tells the story of a woman who believes that her mother had brutally killed three people during a bout with insanity. She is then told that the murder incidents took place during an exorcism ritual. Determined to uncover the truth, she participates in a string of unauthorized exorcism rites while accompanied by a film crew in Italy.
ADVERTISEMENT - CONTINUE READING BELOW
Paramount hopes that The Devil Inside will duplicate, or even surpass, the success of its low-budget thriller film Paranormal Activity, which reportedly earned $193.4 million when it was screened internationally in 2009.
The Devil Inside, likewise, falls under the category of pictures branded as "found footage" films.