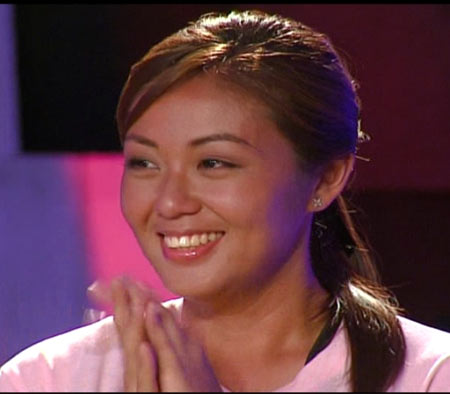 ---
PRESS STATEMENT FROM ABS-CBN:
"Hazel Chua outstripped fellow ex-contestants as she seized the last spot in the Fab Five of The Biggest Loser Pinoy Edition.
In last night's weigh-in, Hazel emerged as the Biggest Loser against Edden, Eric, at Ryan after losing seven pounds or 4.40 percent of her weight last week, enough to beat Eric's 4.35 percent.
"I couldn't believe it. I was speechless. I was saying sorry to Eric because I thought he would get the Top Five spot. But when it finally sank in, I resolved that I would just do everything to prove that I deserve this second chance," she expressed.
"Meanwhile, Hazel's now official sweetheart Raffy automatically gained a slot in the finale for being this week's Biggest Loser among the Top Four. He lost a total of nine pounds from his weight last week.
"After their intensive fitness drill at the camp, witness Art, Larry, Angela, Raffy, and Hazel's health and weight loss success stories when they enthusiastically return to St. Luke's Hospital this week to have a medical check-up.
ADVERTISEMENT - CONTINUE READING BELOW
"Meanwhile, the country's biggest reality TV show takes its final steps to proclaiming the very first Pinoy Biggest Loser as the Fab Five's last training inside the camp is set. But this time, they will be the ones to teach trainers Jim and Chinggay exercise routines.
"Don't miss the despedida ball following a major makeover with Sharon, where the Fab Five will flaunt to their families and relatives the masterpiece they have so worked hard on: their slimmer and lighter figures. How will their loved ones react to the new and better them?
"Find out who will be the first Pinoy Biggest Loser at the "Biggest Loser Pinoy Edition Wellness Fair and Grand Finale" on October 8 (Saturday) at the Ynares Gym in Pasig, with the final and live weigh-in at 7PM.
"Catch The Biggest Loser Pinoy Edition, after Guns and Roses on ABS-CBN."
Ed's Note: When content falls under "Press Statement," this means that the material is fully and directly from the company itself. The use of open-and-close quotation marks to envelope the entire text shows as much. This also means that PEP is not the author of the statement being read. PEP is simply providing the information for readers who may be interested.
ADVERTISEMENT - CONTINUE READING BELOW