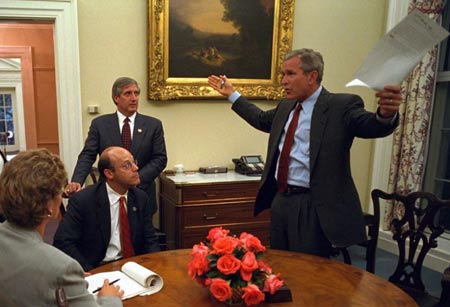 ---
PRESS STATEMENT FROM GMA NEWS TV:
"September 11, 2011 marks the 10th anniversary of the terrorist attack that shook the world.
"GMA News TV commemorates the tragedy with a back-to-back airing of two powerful documentaries by the BBC: 9/11 The Day the World Changed and The Death of Bin Laden. GMA has the exclusive right to broadcast these in the Philippines.
"With narration dubbed in Filipino to reach a wider audience, this 2½-hour back- to-back special gives viewers inside stories on the 9/11 attack and the eventual death of its mastermind. Catch them Sunday night, September 11, from 8 to 10:30 pm on GMA News TV Channel 11.
9/11 THE DAY THE WORLD CHANGED: 8-10 PM, SUNDAY, SEPTEMBER 11

"9/11 The Day the World Changed takes viewers back to the morning of September 11, 2001 when attacks on the United States killed nearly 3,000 people from over 70 countries. The world watched in terror as hijacked passenger planes crashed into the Twin Towers of the World Trade Center, the Pentagon and an open field in Pennsylvania. This documentary reveals the decisive moments of 9/11. Going behind the scenes, it shows how the events unfurled in the aircraft, the offices, the bunkers and the military headquarters as the US President, his advisers, security services and the military tried to piece together what was happening, who was attacking America and what was going to happen next.
THE DEATH OF BIN LADEN: 10 - 10:30 PM, SUNDAY, SEPTEMBER 11
"The Death of Bin Laden shows how America tracked down and killed the world's most wanted man: Osama Bin Laden, Al Qaeda's leader and mastermind of the 9/11 attack. Despite the $25M bounty on his head, Bin Laden evaded the forces of the United States and its allies for almost a decade. From accounts of eyewitnesses, victims of Al Qaeda's terror, and military and intelligence insiders, the documentary traces the events that led to the US Special Forces' raid of the hideout in Abbottabad, Pakistan where Bin Laden was killed last May 2, 2011."
ADVERTISEMENT - CONTINUE READING BELOW
Ed's Note: When content falls under "Press Statement," this means that the material is fully and directly from the company itself. The use of open-and-close quotation marks to envelope the entire text shows as much. This also means that PEP is not the author of the statement being read. PEP is simply providing the information for readers who may be interested.