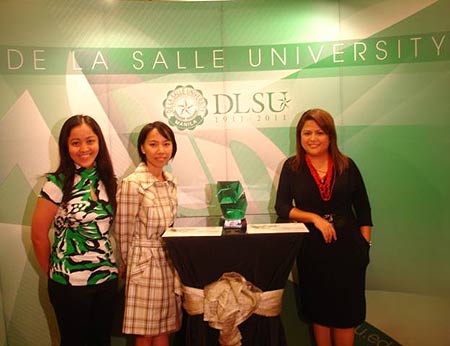 ---
PHOTO CAPTION: I-Witness Team Program Researcher Andrea Pineda, Executive Producer Marilen Go-Nuñez and Sandra Aguinaldo accepted the award given to the GMA-7 program during The Lasallian Scholarum Awards 2011.
PRESS STATEMENT FROM GMA-7:
"A moving documentary about commitment and no-surrender, about families carrying each other through the good and the bad and into, hopefully, a better future--"Pasan-Pasan," the eye-opening I-Witness documentary which aired June of last year, brought home the award for Outstanding Televised Feature on Youth and Education during the recent The Lasallian Scholarum Awards 2011.
"The story, which also hopes to change the way people define the word "burden," is from I-Witness host Sandra Aguinaldo and her team which was honored, in the only broadcast media category, for its outstanding televised feature story on Filipino youth and education issues.
"Pasan-Pasan" tells of families who know the true meaning of love and commitment. Among them, brothers Pablito and Jason. Pablito is 18 years old. Yet he cannot walk, eat, or bathe alone. His bones are too brittle; in fact, he's had fractures all over his body. But whatever pain his broken bones may bring is soothed by the loyalty of his number one champion--his brother Jason. Every day, Jason lifts Pablito on his back to take him to a school for persons with disabilities. Pablito may have brittle bones, but with Jason's dedication, he has a strong chance at a decent future. Jason says he has never thought of Pablito as a burden. He will carry him day after day, towards a better life.
"The Lasallian Scholarum Awards is an annual recognition program for outstanding media coverage of Filipino youth and education issues by print, photo, broadcast, and campus journalists. Sponsored by the Office for Strategic Communications (STRATCOM) of De La Salle University, the campaign, now on its eight year, aims to generate awareness among various sectors on critical issues confronting the education sector.
ADVERTISEMENT - CONTINUE READING BELOW
"This is Aguinaldo's second The Lasallian Scholarum Award, having won in 2008, in the same category, for the I-Witness documentary "Iskul ko, No. 1."
"I'm happy and honored that I-Witness won the Lasallian Scholarum Award for the second time," Aguinaldo said. "Our episode "Pasan-Pasan" is very special to me because it's about physically challenged children who still pursue their education. I'm thankful to have met the extraordinary children studying at the School for the Crippled Children of the Philippine Orthopedic Center. They showed me that it is possible to reach for your dreams even if you have no hands, and you can still take that road to success on your wheelchair."
"I-Witness--with hosts Aguinaldo, Kara David. Jay Taruc and Howie Severino--recently celebrated its 12thanniversary and forges ahead with its mission of bringing eye-opening documentaries to the screen, giving Filipinos a glimpse of human struggles, triumphs, cultures and experiences.
"Aguinaldo added, "We have been producing quality documentaries for 12 years and the fire in our hearts is still burning. The passion is still there and we want to continue making documentaries that are informative and made with a lot of heart. Our loyal viewers are caring people. I know that for a fact because I have witnessed how our viewers helped some of the people we featured in I-WITNESS. I want to be able to do more stories that change people's lives and inspire people to take action."
SHARE THIS STORY " data-url="https://www.pep.ph/guide/at-a-glance/8900/i-witness-was-honored-for-its-documentary-titled-pasan-pasan" data-desc="GMA-7's I-Witness wins 2011 Lasallian Scholarum Award" data-image="https://contents.pep.ph/images2/guide/1315756848_gma-main.jpg"> " data-url="https://www.pep.ph/guide/at-a-glance/8900/i-witness-was-honored-for-its-documentary-titled-pasan-pasan" data-desc="GMA-7's I-Witness wins 2011 Lasallian Scholarum Award" data-image="https://contents.pep.ph/images2/guide/1315756848_gma-main.jpg"> " data-url="https://www.pep.ph/guide/at-a-glance/8900/i-witness-was-honored-for-its-documentary-titled-pasan-pasan" data-desc="GMA-7's I-Witness wins 2011 Lasallian Scholarum Award" data-image="https://contents.pep.ph/images2/guide/1315756848_gma-main.jpg">
SHARE THIS STORY
" data-url="https://www.pep.ph/guide/at-a-glance/8900/i-witness-was-honored-for-its-documentary-titled-pasan-pasan" data-desc="GMA-7's I-Witness wins 2011 Lasallian Scholarum Award" data-image="https://contents.pep.ph/images2/guide/1315756848_gma-main.jpg"> " data-url="https://www.pep.ph/guide/at-a-glance/8900/i-witness-was-honored-for-its-documentary-titled-pasan-pasan" data-desc="GMA-7's I-Witness wins 2011 Lasallian Scholarum Award" data-image="https://contents.pep.ph/images2/guide/1315756848_gma-main.jpg"> " data-url="https://www.pep.ph/guide/at-a-glance/8900/i-witness-was-honored-for-its-documentary-titled-pasan-pasan" data-desc="GMA-7's I-Witness wins 2011 Lasallian Scholarum Award" data-image="https://contents.pep.ph/images2/guide/1315756848_gma-main.jpg"> " data-url="https://www.pep.ph/guide/at-a-glance/8900/i-witness-was-honored-for-its-documentary-titled-pasan-pasan" data-desc="GMA-7's I-Witness wins 2011 Lasallian Scholarum Award" data-image="https://contents.pep.ph/images2/guide/1315756848_gma-main.jpg">