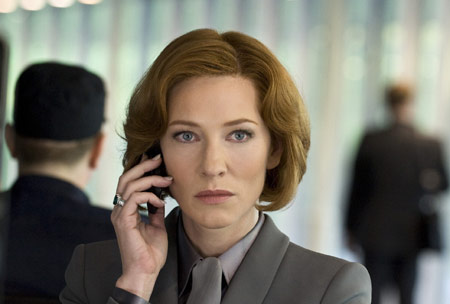 ---
PRESS STATEMENT:
"Hailed as one of the best actresses of our generation, Cate Blanchett plays the antagonist in Columbia Pictures' new suspense thriller Hanna. Directed by Joe Wright (Atonement) and also starring Eric Bana and Saoirse Ronan, Hanna will be shown exclusively at Ayala Malls Cinemas (Glorietta 4 & Greenbelt 3) starting September 28.
"Raised by her father, Erik (Bana) in the wilds of Finland, Hanna's (Ronan) upbringing and training have been one and the same, all geared to making her the perfect assassin. The turning point in her adolescence is a sharp one; sent into the world by her father on a mission, Hanna journeys stealthily across Europe while eluding agents dispatched after her by a ruthless intelligence operative with secrets of her own. As she nears her ultimate target, Hanna faces startling revelations about her existence and unexpected questions about her humanity.
"The threat to Hanna is incarnated by Blanchett who portrays Marissa Wiegler, the cold-steel magnolia CIA agent who once upon a time worked in the field with Erik. Now based in Langley, Virginia, Wiegler's life has been "built around the telling of lies and the holding of secrets, and she has given her all to her job," notes the actress.
ADVERTISEMENT - CONTINUE READING BELOW
"As part of researching the role, Blanchett spoke with a CIA agent who illuminated for her "the tension that exists between those in the field and those who are at headquarters, in Langley."
"She elaborates, "Marissa worked undercover in Germany in the 1990s, and relished the cut-and-thrust of covert operations. The one she was involved with Erik in failed and was closed down, so she harbors incredible resentment towards the agency about the whole thing as well as self-loathing. When Erik and Hanna reappear, she goes back into the field to close them down. Finding Hanna starts out as a professional necessity, but becomes pathological, for her. She wants to possess this child; it's a bit like the Wicked Witch from the Hansel and Gretel story. The fairy tale elements add a heightened quality to the scenes."
"Blanchett had a previous professional tie to Wright. She reveals, "Joe and I were preparing another project together, and that fell through. Then he sent me this script, which terrified me; my partner noted that I'd never had a reaction like that to a screenplay. So Joe and I got to work; it was important to him that Marissa be from Texas, and I tried to get the accent subtly so that it wasn't overpowering."
ADVERTISEMENT - CONTINUE READING BELOW
"Blanchett adds, "As a director, Joe creates a safe environment where you can make a few mistakes, and then hopefully you make better decisions. Joe's attention to detail is such that one minute he would be fixing my hem, the next helping to paint a set, and the next calling for the lens numbers. He is involved in every aspect of filmmaking."
Ed's Note: When content falls under "Press Statement," this means that the material is fully and directly from the company itself. The use of open-and-close quotation marks to envelope the entire text shows as much. This also means that PEP is not the author of the statement being read. PEP is simply providing the information for readers who may be interested.