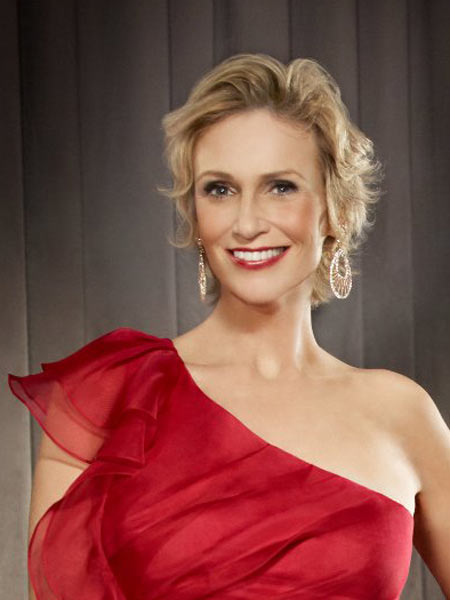 ---
PRESS STATEMENT:
"Velvet takes pride in joining the celebration of excellence in primetime programming and the recognition of top honors in an annual creative arts and primetime awards ceremonies, as it brings the live and complete telecast of the much-anticipated 63rd Primetime Emmy Awards® on September 19, 7 a.m. (pre-show) and 8 a.m. (main show).
"After her Emmy's victory last year as "Outstanding Supporting Actress in a Comedy Series" for worldwide hit TV series Glee, Jane Lynch--the woman behind the tracksuit-wearing gym teacher Sue Sylvester, who everyone hates to love--will grace the Emmys' stage once again, not only as a nominee but as the main host of the awards night.
"I'm so flattered to be chosen as the main host. I'm nervous, but it's just one of the things that you must step up and do it," said Lynch in an interview during her "golden" pictorial.
"One of the concepts of Lynch's photo shoot for the award-giving body was artistically done with the living Emmy trophies: hunks body-painted with gold. Humorous Lynch finds it cool and sexy.
ADVERTISEMENT - CONTINUE READING BELOW
"Executive Producer of the 63rd Primetime Emmy Awards® Mark Burnett, who's also the producer of hit reality shows Survivor, Celebrity Apprentice and The Voice, believes Lynch is the "perfect" choice for this year's awards night.
"She has incredible comedic timing, and is a charismatic, talented actress who energy leaps off the screen and stage. I am thrilled and excited to have her as our host," said Burnett.
"Presenters of the night, on the other hand, include Will Arnett, nominee for Outstanding Guest Actor in a Comedy series, Zooey Deschannel, star of the upcoming FOX series New Girl, new Two and a Half Men star Ashton Kutcher, nominee for Outstanding Lead Actress in a Drama Series Julianna Margulies (The Good Wife), nominee for Outstanding Lead Actress in a Comedy Series Amy Poehler (Parks and Recreation), and Sophia Vergara, Nominee for Outstanding Supporting Actress in a Comedy Series (Modern Family).
"Joining the pack of presenters are Lea Michelle, one of the lead actors in Glee, who is also nominated for Outstanding Comedy series, Ian Somerhalder of The Vampire Diaries, film actor and producer Don Cheadle, Melissa Mccarthy, Outstanding Lead Actress In a Comedy Series nominee, Kaley Cuoco of The Big Bang Theory and Rob Lowe of Parks and Recreation.
ADVERTISEMENT - CONTINUE READING BELOW
"This year's Emmy's also showcases 18 categories acknowledging the best of the best in comedy series, drama, miniseries, movie, variety, musical-comedy series and reality-competition programs.
"Glee," "Parks and Recreation," "The Office," "Modern Family," "30 Rock" and "The Big Bang Theory" battles for the Outstanding Comedy Series award while "Boardwalk Empire," "The Good Wife," "Mad Men," "Friday Night Lights," "Dexter" and HBO's "Game of Thrones" are the nominees for Outstanding Drama series.
"Top Chef," which won as the Outstanding Reality-Competition Program on last year's Primetime Emmy's is once again nominated for the same category, together with "So You Think You Can Dance," "The Amazing Race," "Project Runway," "American Idol," and "Dancing with the Stars."
"Velvet, the country's premier general entertainment channel, is available on Skycable Gold, Skycable Silver and in over quality cable operators nationwide."
Ed's Note: When content falls under "Press Statement," this means that the material is fully and directly from the company itself. The use of open-and-close quotation marks to envelope the entire text shows as much. This also means that PEP is not the author of the statement being read. PEP is simply providing the information for readers who may be interested.
ADVERTISEMENT - CONTINUE READING BELOW