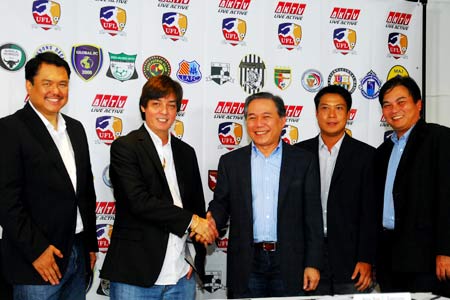 ---
PHOTO CAPTION: AKTV and Football Alliance seal the deal for a five-year exclusive broadcast coverage of the United Football League games that kicks off on October 8, 2011. (L-R) TV5 EVP and COO Roberto Barreiro, Football Alliance Chairman Santi Araneta, TV5 President and CEO Ray Espinosa, Football Alliance President Randy Roxas and Philippine Football Federation President Nonong Araneta.
PRESS STATEMENT FROM TV5:
"AKTV inked a deal with the United Football League (UFL), the country's premiere football league, for a five-year partnership granting the Kapatid Network exclusive coverage of the league's games. The formal contract signing was held last Friday during the league's Draw Night at the EDSA Shangri-La Hotel in Mandaluyong City.
"With a record number of 28 football clubs joining the league's third season this year, the television deal is one of the biggest draw for football clubs participating in the UFL this season. The UFL games will be aired on AKTV, the free-to-air sports channel on IBC 13, starting on October 8. Two UFL matches will be aired every Saturdays.
ADVERTISEMENT - CONTINUE READING BELOW
"For the first time in UFL history, we will be airing select games in full and on a weekly basis on AKTV on IBC. It will not only highlight the UFL's roster of talented teams and players but also the league itself as an exciting spectator experience. We also know that football needs a local league that can create local football heroes and teams that fans can cheer for and watch on a regular basis," said TV5 Sports Manager Vitto Lazatin.
"As its commitment to the league, TV5 will be using high definition cameras and equipment that will make the coverage at par with international sports broadcast. The network will also be acquiring a sports OB van with multi-camera capacities primarily for high action sports events like the UFL games.
"Aside from UFL, AKTV has also been featuring games from international football organizations such as Barclays Premier League and Germany's Bundes Liga since last month.
ADVERTISEMENT - CONTINUE READING BELOW
"We are dedicated to helping build and develop football here in the Philippines and that's why we've brought leagues like the Barclay's Premier League and Bundesliga to Philippine free TV. This also shows that the Filipino audience is increasingly recognizing that football is something we could be proud of," Lazatin added.
"AKTV now has a growing following of sports enthusiasts with its broadcast of local and international sports events such as the FIBA Asia Champion's Cup, mixed martial arts action via Pacific X-Treme Combat, the Wimbledon games and the recently-concluded Smart Ultimate All-Star Weekend. AKTV is also into boxing with its Bigtime Bakabakan specials and Fight Sports, a nightly boxing series featuring the biggest boxing matches in history."
Ed's Note: When content falls under "Press Statement," this means that the material is fully and directly from the company itself. The use of open-and-close quotation marks to envelope the entire text shows as much. This also means that PEP is not the author of the statement being read. PEP is simply providing the information for readers who may be interested.
ADVERTISEMENT - CONTINUE READING BELOW