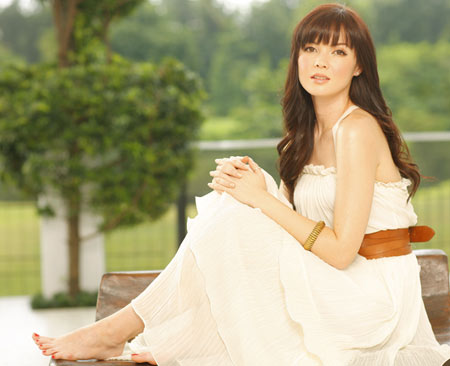 ---
PRESS STATEMENT:
"She is a YouTube phenomenon who has garnered close to 20 million views to date for her homemade video of her acoustic cover of Rihanna's "Umbrella" in 2007. In 2009, she released her debut album Unfold, which broke into the Billboard charts at #29 on its first week and spawned the hit single "Say It Again." Songs from the album have been used in top U.S. shows like ER, The Hills, Greek, Smallville and One Tree Hill. She followed it up with her sophomore release "Breathing Under Water."
"While she has performed all over the US, Europe and Asia, Marié recognizes that a huge chunk of her fanbase are Filipinos. Even though she has no Filipino blood (Marié is of half-Irish, half-Japanese descent), her captivating beauty, charismatic personality, and heartfelt songs have enthralled the Pinoy market.
"Now, Marié Digby has a new album entitled "Your Love", released by Star Records and MCA Music. Marié made this album especially for her Filipino fans.
"Since I made my YouTube video and recorded my albums, my fans in the Philippines have been asking me to come visit. This album is my gift to them for all their support," Marié said.
"The album is bannered by the single "Your Love," which is now playing heavily on radio stations and music channels all over the country. It features her collaborations with the Philippines' hottest actors Sam Milby ("Your Love" duet) and Jericho Rosales ("I Do"). It also includes other original tracks such as "Swoon" and "Loving You Is Easy", her version of the OPM hit "I Think I'm In Love" and her hit songs "Say It Again" and "Umbrella." You can sing along with Marie's music as minus one versions of the tracks are also in the album.
"Your Love is available now in CDs and digital downloads under Star Records and MCA Music and will also be released soon in Asia."
ADVERTISEMENT - CONTINUE READING BELOW
Ed's Note: When content falls under "Press Statement," this means that the material is fully and directly from the company itself. The use of open-and-close quotation marks to envelope the entire text shows as much. This also means that PEP is not the author of the statement being read. PEP is simply providing the information for readers who may be interested.
SHARE THIS STORY " data-url="https://www.pep.ph/guide/at-a-glance/8967/marie-digby-also-collaborated-with-jericho-rosales-for-i-do" data-desc="Marie Digby sings a duet with Sam Milby for Your Love" data-image="https://contents.pep.ph/images2/guide/1316614195_marie-digby.jpg"> " data-url="https://www.pep.ph/guide/at-a-glance/8967/marie-digby-also-collaborated-with-jericho-rosales-for-i-do" data-desc="Marie Digby sings a duet with Sam Milby for Your Love" data-image="https://contents.pep.ph/images2/guide/1316614195_marie-digby.jpg"> " data-url="https://www.pep.ph/guide/at-a-glance/8967/marie-digby-also-collaborated-with-jericho-rosales-for-i-do" data-desc="Marie Digby sings a duet with Sam Milby for Your Love" data-image="https://contents.pep.ph/images2/guide/1316614195_marie-digby.jpg">
SHARE THIS STORY
" data-url="https://www.pep.ph/guide/at-a-glance/8967/marie-digby-also-collaborated-with-jericho-rosales-for-i-do" data-desc="Marie Digby sings a duet with Sam Milby for Your Love" data-image="https://contents.pep.ph/images2/guide/1316614195_marie-digby.jpg"> " data-url="https://www.pep.ph/guide/at-a-glance/8967/marie-digby-also-collaborated-with-jericho-rosales-for-i-do" data-desc="Marie Digby sings a duet with Sam Milby for Your Love" data-image="https://contents.pep.ph/images2/guide/1316614195_marie-digby.jpg"> " data-url="https://www.pep.ph/guide/at-a-glance/8967/marie-digby-also-collaborated-with-jericho-rosales-for-i-do" data-desc="Marie Digby sings a duet with Sam Milby for Your Love" data-image="https://contents.pep.ph/images2/guide/1316614195_marie-digby.jpg"> " data-url="https://www.pep.ph/guide/at-a-glance/8967/marie-digby-also-collaborated-with-jericho-rosales-for-i-do" data-desc="Marie Digby sings a duet with Sam Milby for Your Love" data-image="https://contents.pep.ph/images2/guide/1316614195_marie-digby.jpg">