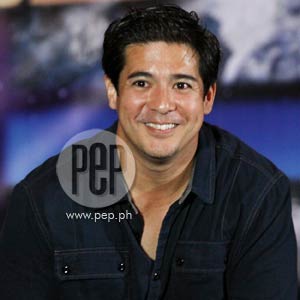 ---
PRESS STATEMENT FROM TV5:
"Pinoy Explorer, TV5's biggest edutainment show hosted by Aga Muhlach, continues to heat up the ratings chart with its weekly serving of adventure and education.
"This week, Aga continues his journey in the famed Yellowstone National Park, but this time he ventures on the side of the park that reaches Montana, one of the western states in America where many cowboys still dwell. The state is also famous for its majestic Mammoth Hot Springs, Grand Canyon of Yellowstone, and the gigantic Lower Falls.
"With Aga introducing the first chapter of 'Walking with Dinosaurs,' the award-winning BBC documentary series, this episode will feature creatures such as coelophysis, cynodont, and postosuchus, which are said to be ancestors of modern day animals like crocodiles, dogs, and birds.
"Join Aga as he discovers the world's wonders in Pinoy Explorer. Catch this new episode on Sunday, October 2, 6:30 pm on TV5."
Ed's Note: When content falls under "Press Statement," this means that the material is fully and directly from the company itself. The use of open-and-close quotation marks to envelope the entire text shows as much. This also means that PEP is not the author of the statement being read. PEP is simply providing the information for readers who may be interested.
SHARE THIS STORY Pinoy Explorer
" data-url="https://www.pep.ph/guide/at-a-glance/9023/aga-muhlach-goes-from-explorer-to-cowboy-in-this-sundays-episode-of-pinoy-explorer" data-desc="Pinoy Explorer host Aga Muhlach travels to Yellowstone National Park" data-image="https://contents.pep.ph/images2/guide/48591ef4f.jpg">
Pinoy Explorer" data-url="https://www.pep.ph/guide/at-a-glance/9023/aga-muhlach-goes-from-explorer-to-cowboy-in-this-sundays-episode-of-pinoy-explorer" data-desc="Pinoy Explorer host Aga Muhlach travels to Yellowstone National Park" data-image="https://contents.pep.ph/images2/guide/48591ef4f.jpg">
Pinoy Explorer" data-url="https://www.pep.ph/guide/at-a-glance/9023/aga-muhlach-goes-from-explorer-to-cowboy-in-this-sundays-episode-of-pinoy-explorer" data-desc="Pinoy Explorer host Aga Muhlach travels to Yellowstone National Park" data-image="https://contents.pep.ph/images2/guide/48591ef4f.jpg">
SHARE THIS STORY
Pinoy Explorer
" data-url="https://www.pep.ph/guide/at-a-glance/9023/aga-muhlach-goes-from-explorer-to-cowboy-in-this-sundays-episode-of-pinoy-explorer" data-desc="Pinoy Explorer host Aga Muhlach travels to Yellowstone National Park" data-image="https://contents.pep.ph/images2/guide/48591ef4f.jpg">
Pinoy Explorer" data-url="https://www.pep.ph/guide/at-a-glance/9023/aga-muhlach-goes-from-explorer-to-cowboy-in-this-sundays-episode-of-pinoy-explorer" data-desc="Pinoy Explorer host Aga Muhlach travels to Yellowstone National Park" data-image="https://contents.pep.ph/images2/guide/48591ef4f.jpg">
Pinoy Explorer" data-url="https://www.pep.ph/guide/at-a-glance/9023/aga-muhlach-goes-from-explorer-to-cowboy-in-this-sundays-episode-of-pinoy-explorer" data-desc="Pinoy Explorer host Aga Muhlach travels to Yellowstone National Park" data-image="https://contents.pep.ph/images2/guide/48591ef4f.jpg">
Pinoy Explorer" data-url="https://www.pep.ph/guide/at-a-glance/9023/aga-muhlach-goes-from-explorer-to-cowboy-in-this-sundays-episode-of-pinoy-explorer" data-desc="Pinoy Explorer host Aga Muhlach travels to Yellowstone National Park" data-image="https://contents.pep.ph/images2/guide/48591ef4f.jpg">