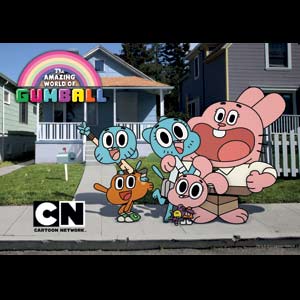 ---
Starting October 1, the Cartoon Network celebrates its new look with the premiere of the award-winning animated sitcom, The Amazing World of Gumball.
Already a smash hit in the United States, The Amazing World of Gumball will have Pinoy kids laughing out loud as they follow the funny adventures of Gumball, a kid who faces the trials and tribulations of any 12-year-old; like being chased by a rampaging T-Rex, having a robot steal his identity or dressing as a cheerleader to impress the girl of his dreams. Normal just got a little weird.
Gumball, who is really a blue cat with a giant head, is part of an extra-ordinary suburban family that happens to live in an ordinary town. There's Dad, a 6' 4" pink rabbit who stays at home while Mom works in the rainbow factory. And their kids are pretty standard too: besides Gumball, there's his sister Anais, a 4-year-old genius bunny and Darwin, a pet goldfish who became part of the family when he sprouted legs.
Lucien Harrington, Vice President of Branding and Communications, Turner Broadcasting System Asia Pacific has been quoted as saying, "Cartoon Network's promise is simple, it's all about the fun and energy of the playground and we invite kids everywhere to tune in to experience our brand new look and line up of comedy, starting with the laugh-a-second adventures in The Amazing World of Gumball."
Created by Ben Bocquelet and BAFTA award-winner Mic Graves as the series' director, this comedy-animation is one of the most technically ambitious productions ever, using a unique combination of 2D and 3D animation with live-action backgrounds. The series will air in 166 countries, and due to its early success the show has already been commissioned for a second series. It also bagged the prestigious Cristal Award for Best Television Production at this year's Annecy International Animation Film Festival in June.
ADVERTISEMENT - CONTINUE READING BELOW
The Amazing World of Gumball will premiere on October 1, 2011 at 9:00 am.