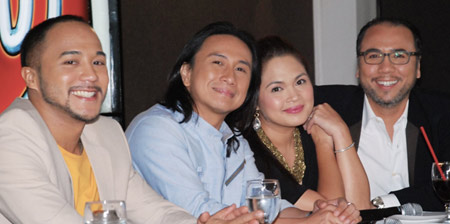 ---
PHOTO CAPTION: Chef Jayps, Chef Lau, Judy Ann Santos, and Chef Ferns
PRESS STATEMENT FROM ABS-CBN:
"ABS-CBN's kiddie cooking reality show Junior MasterChef Pinoy Edition will serve a scrumptious double treat every weekend as it airs on Saturdays (6:45 pm) and Sundays (7 pm) starting October 1.
"The talented eight-to-12 year old chefs' cooking showdown is set to toughen because from hereon, a scoreboard will record the top 20 kiddie cooks' points based on their performance.
"Host Judy Ann Santos-Agoncillo and chef judges Ferns, Lau, and Jayps will reward the best dish with six points, while the second and third placers will get four points and two points, respectively. The remaining kids will each get one point for participation.
"Find out who among the young cooks will earn the most points this Saturday (October 1) in a Mystery Box challenge, where each kid will be given the same box of ingredients namely galunggong, munggo beans, sotanghon noodles, chocolate, coconut, malunggay leaves, ginger, and calamansi.
"The challenge aims to bring out the resourcefulness and versatility in the kids, who have to whip up a dish using at least four of these ingredients.
"The kid who serves the finest dish based on host Juday and the three jurors' verdict will have the power to choose the core ingredient for the emotion-filled Invention Test on Sunday (October 2), where they will be tasked to invent a dish dedicated to their loved ones.
"Junior MasterChef Pinoy Edition airs every Saturday, 6:45 PM, and every Sunday, 7 PM on ABS-CBN."
Ed's Note: When content falls under "Press Statement," this means that the material is fully and directly from the company itself. The use of open-and-close quotation marks to envelope the entire text shows as much. This also means that PEP is not the author of the statement being read. PEP is simply providing the information for readers who may be interested.
ADVERTISEMENT - CONTINUE READING BELOW