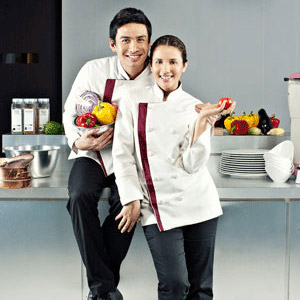 ---
Filipino artists Karylle, Christian Bautista, Art Acuña, Ikey Canoy and Thou Reyes showcase their strong singing and acting abilities to help concoct a promising dish that is The Kitchen Musical, a 13-episode pan-Asian TV series shot in Singapore.
It's set to hit TV screens in 19 countries across Asia and Europe. ABS-CBN aired the pilot episode, with a behind-the-scenes special as an intro, last Sunday night, October 2. The other episodes will be shown on Studio 23, starting on October 8, 2011.

Karylle (billed here with her surname, Tatlonghari) plays central character Maddie Avilon, who comes home from her culinary studies abroad eager to work as sous chef at her father's restaurant so she can impress its executive chef and her idol, Alex Marcus (played by Stephen Rahman Hughes). Despite her best efforts, she is rebuffed and even insulted by Alex. But in the end it's her soup that captivates the discriminating palate of a food critic, thus redeeming herself—as implied in the last scene where Alex looks furtively at her.
Christian is Maddie's best friend Daniel Ray, also a sous chef at The Avilon. Art is the restaurant's general manager Harry Shaw; Ikey is pastry chef Winston; and Thou, who uses his formal name Joseph Reyes, is a line cook called Thou.
Karylle, a singer who has dabbled in musical theater, recording, television and movies, gives her role the appropriate energy, zeal and idealism, though at times she goes overboard. She does best in quiet scenes like the "Unwell" number, which begins after her talk with Harry in his office and progresses into a duet (while she's already in the dining area).
ADVERTISEMENT - CONTINUE READING BELOW
Christian proves that he can do more than ballads by showing how much fun he's having while performing with the cast in the opening number "Boom Boom Pow" and as one of the back-ups in Rosemary Vandenbroucke's solo (as sommelier Selena Argon), "Maneater." His character doesn't do much in the pilot except prove that he's a promising chef (his Rack of Lamb also earns kudos) and a hopeless romantic (why can't he just tell Maddie to look at him instead?).
Art's extensive experience in theater, TV and film is evident in how comfortable he is in front of the camera. Unlike most of his co-stars who seem to be performing in a huge hall, he knows how to adjust his acting to the intimate nature of the small screen. After all, he's done diverse TV projects, from the U.S. series Law & Order to the ABS-CBN teleserye Rosalka, and he won best supporting actor for Niño at this year's edition of Cinemalaya Independent Film Festival. Being a Filipino-American also makes him most comfortable in this English-language series.
Ikey, of the vocal group AKAfellas, and Thou, who's been acting since his Ang TV days, spice up the show by giving more than their share of thespic, melodic and comedic talents. We hope to see more of them in the succeeding episodes.
Musical director Gerard Salonga is another Filipino pride. His rearrangement of the songs is refreshing but still recognizable. The stripped-down version of Matchbox 20's "Unwell," for instance, beautifully reveals Maddie's impaired soul and intriguingly hints on Harry's own troubles (which are expected to unfold later on).
ADVERTISEMENT - CONTINUE READING BELOW
The other players make The Kitchen Musical even more palatable. Stephen Rahman Hughes has the requisite good looks that almost make him forgivable for punishing Maddie. But he lacks roguish charms that would have made Alex both a fearsome and a revered figure in and out of the kitchen. On the other hand, statuesque and sultry Rosemary Vandenbroucke is perfect for the dangerous and threatening Selena. All she has to do is show up in designer ensembles and maybe arch her eyebrows or pout her lips—and the audience already gets her.
Juan Jackson, Carla Dunareanu, Erwin Shah Ismail, Juwanda Hassim, Nadiah M. Din, Oon Shu An, Gayle Nerva, Rebecca Spykerman and Debra Teng round up the cast of The Kitchen Musical.
Cheek's glossy direction works in the musical numbers and food shots but not in scenes that should've shown nuances of the characters and their relationships with one another. Maybe in the next episodes we will see more of these and maybe a celebration of cultural diversity and regional unity.