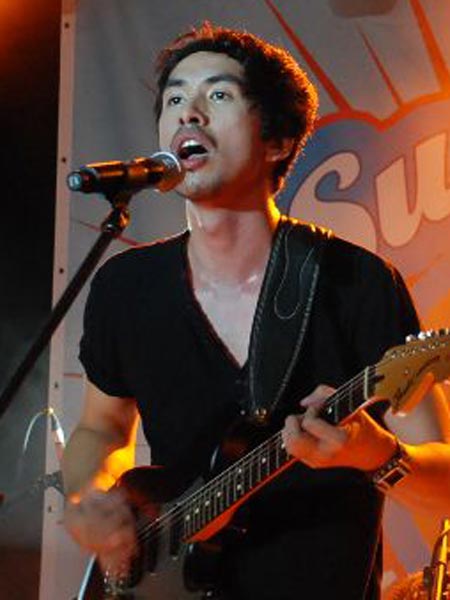 ---

Singer/songwriter Rico Blanco shows no signs of slowing down despite the numerous achievements and endeavors he's been involved with in the recent past.
Presently, Rico Blanco once again leads the pack with his passionate--if not, urgent--advocacy in strengthening the ever-growing Original Pilipino Music. Backed by Warner Music Philippines, Blanco has clearly surpassed his early reputation as Pinoy Rock Anthem-making machine and is clearly one of the foremost composers in the league today.
When Blanco recently released the single "Ngayon," the management of Tanduay Rhum realized that it was the perfect fit alongside their successful string of nationwide gigs with the country's top bands at this year's TanduayRhumRockfest, which boasts of the most important rock acts of the present and of the previous decade.

With the seed planted, both TanduayRhum and Warner Music Philippines finally present the release of Blanco's hit single"Ngayon" to be released first in this compilation of the finest OPM Rock tracks aficionados of all ages will surely look for: from 90s gems like Wolfgang's "Halik Ni Hudas" to new tracks from veteran bands like The Dawn ("Tibay Ng Pinas") and Siakol ("P.I."), to millennium hits like Chicosci's "Seven Black Roses," "Kamikazee's "Chinelas" and Franco's "This Gathering" and even current favorites from live staples like Urbandub, Typecast, Gloc 9, 6cyclemind and EbeDancel, this is definitely a blow-by-blow compilation like no other, and an impressive assembly of artists with an expected magnitude of great proportion.
In Blanco's "Ngayon," a line goes: "Ang nakaraan pasasalamatan, pero ngayon ang panahon," showing his homage to the songwriters and composers before him. This is both a plea for all OPM artists to unite, and a celebration of how far the music has come and evolved with the combined efforts of artists and corporations who believe in preserving and supporting our own.
ADVERTISEMENT - CONTINUE READING BELOW
"Ngayon" is currently receiving massive airplay on all local radio stations; and the compilation album Ngayon: Tanduay Rhum Rockfest 5 Commemorative CD will be available only at the TanduayRhumRockfest on October 14, at the Mall of Asia grounds, exclusively released by Warner Music Philippines.


TRACK LISTING.

1. "Ngayon" - Rico Blanco
Composed by Rico Blanco
Published by: Warner Music

2. "TibayngPinas" - The Dawn
Composed by: RPangan / HZabala
Published by: Universal Music Group
Courtesy of MCA Music Group

3. "This Gathering" - Franco
Composed by: F. Reyes
Published by: Universal Music Group
Courtesy of MCA Music Group

4. "This kind of Silence" - Typecast
Composed by: Steve Badiola
Published by: Universal Music Group c
Courtesy of Backbeat Artist Management

5. "Upuan" - Gloc9 feat. JazelleGrutas of Zelle
Composed by: Aristotle Pollisco
Published by: MRU Music Publishing
Courtesy of Sony Entertainment Philippines

6. "P.I." - Siakol
Composed by: Manuel Palomo
Published by:Universal Music Group


7. "Sandalan" - 6Cyclemind
Composed by: Darwin Hernandez
Published by: MRU Music Publishing
Courtesy of Sony Entertainment Philippines

8. "7 Black Roses" - Chicosci
Composed by: M. Alcaraz / M. Chavez / C. Calderon
Published by: Universal Music Group
Courtesy of MCA Music, Inc.

9. "HalikniHudas" - Wolfgang
Composed by: M. Legarda and A. Legaspi
Published by: Wolfgang
Courtesy of Ivory Music and Video

10. "Chinelas" - Kamikazee
Composed by: A, Bordeos& J. Contreras
Published by: Warner Music Philippines

11. "Gravity" - Urbandub
Composed by: G. Alipe, J. Dinopol, J. Mendoza
Published by: Universal Music Group
Courtesy of MCA Music, Inc.

12. "Hanggang sa dulo ng mundo" - EbeDencel
Composed by: EbeDencel
Published by: Warner Music Philippines