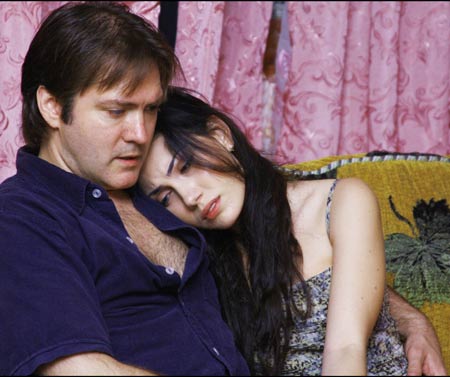 ---
PHOTO CAPTION: American actor DJ Perry and French-Filipina actress Anne Gauthier shot the film Darkest Night in Pampanga.
Gothic Productions International, a Philippine company funded by U.S. independent resources, announces that its film, Darkest Night, will premiere in Manila during early November 2011.


The film is almost done in post production, and its opening is expected to be followed up by theatrical play in the Philippines in early 2012. Talks are currently underway with distributors in the U.S. for the rights.


The film stars American actor DJ Perry who became known for The 8th Plague (2006), Ghost Town: The Movie (2007), and other popular U.S. horror films.


Perry plays the leading actor. He has starred in several American horror/ thrillers, as well as Westerns and dramatic period pieces.
Co-starring in Darkest Night is Anne Gauthier, a newbie film actress who is French-Filipina. The film also features Pinoy actors Issa Litton, Nic Campos, Jill Palencia, Marife Necesito, Zeny Sevilla, Kevin Vitug and Jonas Gruet.
SYNOPSIS. Darkest Night unfolds in a "found video and documentary" style. Its story plops American Perry right in the middle to allow western audiences to experience a "holiday" trip away from home.


Eastern audiences will identify with the Asian characters, as well as the local and family setting. Perry's character in the film, Ken Tyler, is introduced to the traditional Filipino family of his fiancé, Susan Reyes, played by Ms. Gauthier, during a Christmas Day family reunion.


What follows is a dark, horrific trip not to be missed, as demonic forces come into play. Darkest Night combines western demons with eastern spiritual traditions to come up with an original recipe for suspense and terror.


The film's website may be accessed at www.darkestnightmovie.com
The film came about as a collaboration between GPI in the Philippines and Collective Development Inc. in the U.S. owned by Perry and business partner Jeff Kennedy.
ADVERTISEMENT - CONTINUE READING BELOW


The goal was simple: to create a hybrid horror film that would appeal to both eastern and western markets while not losing the edge that makes Asian horror unique. Perry is considered to be one of the first American stars to film in the Philippines with a local film company.
Gothic International Productions is managed by American writer/ producer Russ Williams, a long-time resident of Malaysia, and Filipino director Noel Tan best known for his early documentary work with Filipino boxing legend Manny Pacquiao.


Darkest Night includes various Asian talents from the stage and screen. Founded in 2010 by a group of dedicated filmmakers from Asia and the U.S., GPI chose as its primary mission to produce and encourage quality, international Gothic and horror films in an Asian setting or with Asian ties.


Its goal is to make excellent films in these genres and to promote Asian filmmakers who wish to make new Gothic-dramatic and related films. GPI's primary goal is to create productions with intense drama and real characters.
UPCOMING PROJECTS. GPI is also proud to reaffirm its slate of films planned for 2011, Shadow of Death (written by Williams) another offering in the horror genre, about a young man who returns to his island home in the Philippines after a long absence, to reclaim his birthright and his son. However, a centuries-long family feud and horrific, ages-old creatures from another world stand in his way.
Another film planned is PanDEMONium (written by Perry), a sword and sorcery fantasy about a young prince out to avenge his father's death and conquer another kingdom. His quest leads him to opposition from a monster created by the blackest of black magic.

Also in the fantasy realm, GPI is currently discussing the rights to a Japanese anime franchise, whose story the producers wish to turn into a film and possibly even a series of films.
ADVERTISEMENT - CONTINUE READING BELOW


The anime series has been extremely popular with anime fans, and its plot concerns a hero facing a personal struggle, who finds romance and danger as he battles to save his country from dark forces that would destroy it.