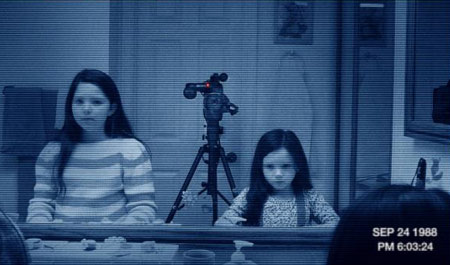 ---
PRESS STATEMENT:
"In 1988, young sisters Katie and Kristi encounter an invisible entity haunting their home. Although it appears friendly, it turns hostile, tormenting the young girls and their family.
"A scene near the start of the film, which is based before the second film, features Katie bringing over a box of video tapes to the home of her sister Kristi and after leaving Kristi starts to sort through some of tapes, being filmed by her husband Daniel.
"Almost three years ago on September 25th, 2009, a small film was released to a limited amount of theatres. The film quickly gained steam as it headed to campuses around the country.
"Landing at The University of Lincoln's Mary Riepma Ross Media Arts Center was Paranormal Activity.
"The small-budget film with the estimated budget of around $15,000 eventually grossed $107 million. The film capitalizes on hand-held footage pioneered by 1999's The Blair Witch Project and a formulaic plot set to scare its viewers.
"The film utilizes quick movements and loud noises to cause audience members to jump, scream, and occasionally cry. Never before had a film affected so many people who were collectively scared and unafraid to show it. Never was it observed that a small film was able to garner an audience this well. The horror genre has lent itself to be the safe haven for this type of relationship between small film and audience. Thus, there was something different about Paranormal Activity.
"The latest movie, Paranormal Activity 3, reveals what transpired in much (if not all) of the action 18 years before the events depicted in the first two movies--showing that Katie and Kristi may ultimately be responsible for inviting the demon into their lives by playing around with the occult as children. In the first TV spot released for the movie, we see the girls playing the childhood game "Bloody Mary" and actually summoning... something.
ADVERTISEMENT - CONTINUE READING BELOW
"Paranormal Activity 3 starring Katie Featherston, Sprague Grayden, Lauren Bittner , Mark Fredrichs, Brian Boland, Christopher Nicholas Smith, Chloe Csengery, and Jessica Tyler Brown is directed by Henry Joost and Ariel Schulman and is distributed locally by United International Pictures thru Solar Entertainment Corporation.
"The film will be shown in cinemas starting October 21, 2011."
Ed's Note: When content falls under "Press Statement," this means that the material is fully and directly from the company itself. The use of open-and-close quotation marks to envelope the entire text shows as much. This also means that PEP is not the author of the statement being read. PEP is simply providing the information for readers who may be interested.