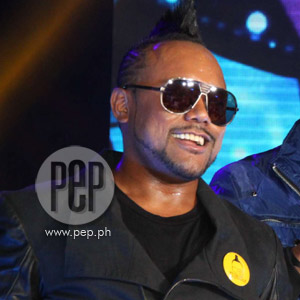 ---
Apl. de. ap arrived in the Philippines days before his hit-making group, the Black Eyed Peas, will perform on October 25 at the SM Mall of Asia Concert Grounds in Pasay City.
The Filipino-American singer-performer flew in early to promote, not just the upcoming concert, but more importantly his new ventures, which aims to help address our country's continuing problems when it comes to education.
Apl. de. ap—who is Allan Pineda Lindo Jr. in real life—recently donated a computer room and a music library to a public school located at his home province, Pampanga.


(CLICK HERE to read related article)
The effort is in line with Pineda's supported advocacy billed as "We Can Be Anything"—a campaign founded to provide adequate classrooms conducive to learning for the benefit of millions of students all over the country. This educational campaign will be formally launched in the Philippines during the October 25 concert of the Black Eyed Peas.
It is no secret that despite the government's claim that education remains one of its priorities, public schools scattered nationwide are still being overlooked, and thus compromising the quality of education being provided to the youth.
"We have a shortage of classrooms for the kids, in all the urban schools in the Philippines, so we're trying to build additional ten thousand classrooms in all the schools," explained Pineda during his October 15 guest appearance on ABS-CBN's noontime program, Happy Yipee Yehey!
In 1974, Pineda was born to a Filipino mother and an American-African father, who at the time was stationed at Clark Air Base in Pampanga.
He experienced poverty as a child before coming to the United States at the age of eleven courtesy of an organization tasked to care for abandoned Asian children with American lineage.
After jumping from one job to another to make a living, Pineda's music career took off with the success of the Black Eyed Peas 2003 debut album titled, Elephunk.
ADVERTISEMENT - CONTINUE READING BELOW
The American hip-hop group composed of Pineda (apl.de.ap)—alongside William James Adams Jr. (will.i.am), James Luis Gomez (Taboo), and lead singer Stacy Ann Ferguson (Fergie)—instantly became international sensations, thanks to the chart success of their hit songs, "Where is the Love?" "My Humps," "Don't Phunk with my Heart," "I Gotta Feeling," and "The Time (Dirty Bit)," which samples the chorus of Dirty Dancing's theme song, "(I've Had) The Time of My Life."
Despite all the accolades and fame, Pineda utilized his fame to come home to the Philippines often and reconnect with his countrymen.
Embarking on a charity endeavor meant to help Filipino children strikes a chord in Pineda's heart.
"Yung mga bata nagsisiksikan sila sa isang classroom, so you know, it's ["We Can Be Anything" campaign] for them to focus and to learn better," he said seriously.
"I was adopted as a kid, and given an opportunity, that's why it's very important for me to give back. Especially the kids in the province, they have never seen a computer, and that's why I'm targeting the provinces. So you know, the kids can compete with the other kids, and they can learn technology, and that's really important for me."
SHARE THIS STORY " data-url="https://www.pep.ph/guide/at-a-glance/9154/the-black-eyed-peas-will-lend-support-for-the-we-can-be-anything-campaign-launch-on-october-25" data-desc="Apl de Ap hopes to raise funds for 10,000 classrooms in the Philippines" data-image="https://contents.pep.ph/images2/guide/1319030849_apl-de-ap-[allan].jpg"> " data-url="https://www.pep.ph/guide/at-a-glance/9154/the-black-eyed-peas-will-lend-support-for-the-we-can-be-anything-campaign-launch-on-october-25" data-desc="Apl de Ap hopes to raise funds for 10,000 classrooms in the Philippines" data-image="https://contents.pep.ph/images2/guide/1319030849_apl-de-ap-[allan].jpg"> " data-url="https://www.pep.ph/guide/at-a-glance/9154/the-black-eyed-peas-will-lend-support-for-the-we-can-be-anything-campaign-launch-on-october-25" data-desc="Apl de Ap hopes to raise funds for 10,000 classrooms in the Philippines" data-image="https://contents.pep.ph/images2/guide/1319030849_apl-de-ap-[allan].jpg">
SHARE THIS STORY
" data-url="https://www.pep.ph/guide/at-a-glance/9154/the-black-eyed-peas-will-lend-support-for-the-we-can-be-anything-campaign-launch-on-october-25" data-desc="Apl de Ap hopes to raise funds for 10,000 classrooms in the Philippines" data-image="https://contents.pep.ph/images2/guide/1319030849_apl-de-ap-[allan].jpg"> " data-url="https://www.pep.ph/guide/at-a-glance/9154/the-black-eyed-peas-will-lend-support-for-the-we-can-be-anything-campaign-launch-on-october-25" data-desc="Apl de Ap hopes to raise funds for 10,000 classrooms in the Philippines" data-image="https://contents.pep.ph/images2/guide/1319030849_apl-de-ap-[allan].jpg"> " data-url="https://www.pep.ph/guide/at-a-glance/9154/the-black-eyed-peas-will-lend-support-for-the-we-can-be-anything-campaign-launch-on-october-25" data-desc="Apl de Ap hopes to raise funds for 10,000 classrooms in the Philippines" data-image="https://contents.pep.ph/images2/guide/1319030849_apl-de-ap-[allan].jpg"> " data-url="https://www.pep.ph/guide/at-a-glance/9154/the-black-eyed-peas-will-lend-support-for-the-we-can-be-anything-campaign-launch-on-october-25" data-desc="Apl de Ap hopes to raise funds for 10,000 classrooms in the Philippines" data-image="https://contents.pep.ph/images2/guide/1319030849_apl-de-ap-[allan].jpg">