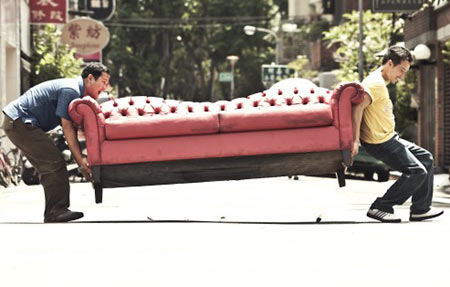 ---
Film buffs need to clear up their schedules soon for the Taiwan Film Festival, which will run from October 21 to 26, 2011 at Shangri-La Plaza in Mandaluyong City.
Now on its second year, the Taiwan Film Festival brings together Taiwan's finest cinema for the patronage of the Filipino public. Admission is free.
Heading the list of nine films is the Filipino-Taiwanese production Pinoy Sunday, which stars Epy Quizon and Bayani Agbayani as OFWs who go an unforgettable adventure after finding an abandoned couch in the middle of Taipei.
Directed by Malaysian director Wi Ding Ho and produced in 2009, Pinoy Sunday is an unconventional Taiwanese film because it mainly stars Filipino actors, and the dialogue is mostly in Tagalog.
Director Wi Ding Ho won the prestigious Best New Director Award at the Golden Horse Film Festival Awards Ceremony in 2010 for this film.
OTHER FILMS. Eight other films in the Taiwan Film Festival are No Puedo Vivir Sin Ti, Gangster Rock, Zoom Hunting, Three Times, The Magical Washing Machine, Small Station, Respire, and Jump! Boys.
No Puedo Vivir Sin Ti (2009) is an award-winning film that tells the story of a father who loses all options to get custody of her only daughter, due to red tape and irrational government policies. Shot entirely in black-and-white, the film makes the viewer believe that it is about bleakness and despair, when it's really about hope.
Gangster Rock (2010) tells the story of a small-time gangster called Hau and a debt-ridden band singer A-Hai. The two team up to make money in the entertainment business, until Hau realizes that the supposedly clean industry is worse than the mob business.
ADVERTISEMENT - CONTINUE READING BELOW
Zoom Hunting (2010) is about a photographer who takes a photo of a couple in an intimate setting. Later, he finds out that the couple is involved in infidelity and deception.
Three Times (2005) brings to life three stories of love, zoning in to the magical feeling that can only be felt once, and can never be repeated.
The Magical Washing Machine (2004) is about a little girl who discovers a magical washing machine that never does what normal washing machines do: it makes clothes new, or keeps them dirty, or churns out something out-of-this-world.
Small Station (2005) chronicles the travelogue of a 60-year-old woman and her 35-year-old mentally-disabled son as they journey from Taipei to a remte station in Taiwan.
Respire (2005) narrates tha sad tale of a young girl who lives in a fictional world transformed by a deadly airborne virus.
Lastly, Jump! Boys (2005) is a documentary about little Taiwanese boys who, unlike their peers, go straight to the gym after school to brace themselves for painstaking physical training beyond their years. The documentary gives us a glimpse into Taiwan's rigorous physical education.
Here is the schedule of screening for the second Taiwan Film Festival at Shang Cineplex:

October 21, 2011 (Friday)
2:00 pm - No Puedo Vivir Sin Ti
5:00 pm - Zoom Hunting
8:00 pm - Gangster Rock
October 22, 2011 (Saturday)
2:00 pm -The Magical Washing Machine / Respire / Small Station
5:00 pm - Gangster Rock
8:00 pm - Three Times

October 23, 2011 (Sunday)
2:00 pm - Zoom Hunting
5:00 pm - Pinoy Sunday
8:00 pm - No Puedo Vivir Sin Ti
October 24, 2011 (Monday)
2:00 pm - Three Times
5:00 pm - Jump! Boys
8:00 pm - Pinoy Sunday
ADVERTISEMENT - CONTINUE READING BELOW

October 25, 2011 (Tuesday)
2:00 pm - Gangster Rock
5:00 pm - No Puedo Vivir Sin Ti
8:00 pm -The Magical Washing Machine / Respire / Small Station
October 26, 2011 (Wednesday)
2:00 pm - Jump! Boys
5:00 pm -The Magical Washing Machine / Respire / Small Station 8:00 pm - Zoom Hunting