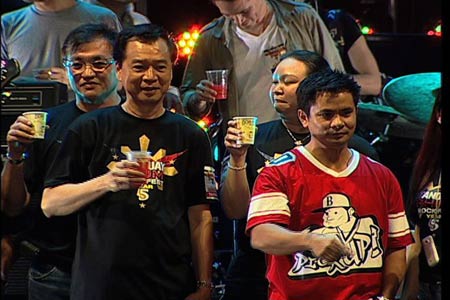 ---
PRESS STATEMENT FROM GMA-7:
"Kapuso viewers will have front row seats to the biggest Pinoy rock concert in history as GMA-7 airs the Tanduay Rhum Rockfest Year 5, this Sunday, October 23, on SNBO.
"For ninety uninterrupted minutes, the most influential and popular rock bands and music icons from different generations come together to deliver a concert experience like no other.
"Featuring performances by the Tanduay First Five bands--Chicosci, Kamikazee, Parokya ni Edgar, Wolfgang and Sandwich--the event will take viewers through an exhilarating journey through the colorful and lively history of Pinoy rock.
"Making the night more exciting is the participation of some of the biggest Filipino rock icons like Sampaguita, Bamboo, and Rico Blanco, whose latest single "Ngayon" was chosen to be the official theme song of Tanduay Rhum Rockfest Year 5.
"Also performing on stage are Hungry Young Poets, Protégé mentor Gloc9, and Introvoyz' drummer and vocalist Paco Arespacochaga, who flew back to the Philippines solely for this event.
"Viewers must especially look out for the collaborations between the great acts of the '90s and the next big names in the Pinoy rock industry.
"Tanduay sealed the celebration with a traditional toast together with OPM ambassadors Ogie Alcasid, Noel Cabangon, Dingdong Avanzado, alongside Tanduay officials.
"For the last four years, Tanduay has been providing local artists with a venue to showcase their talent and uphold the quality of music in the country. And so far, Tanduay Rhum Rockfest Year 5 has been their widest and grandest event yet.
"With no commercial breaks in between, the Tanduay Rhum Rockfest Year 5 airs this Sunday right after Protégé on GMA-7's Sunday Night Box Office."


Ed's Note: When content falls under "Press Statement," this means that the material is fully and directly from the company itself. The use of open-and-close quotation marks to envelope the entire text shows as much. This also means that PEP is not the author of the statement being read. PEP is simply providing the information for readers who may be interested.
ADVERTISEMENT - CONTINUE READING BELOW
SHARE THIS STORY " data-url="https://www.pep.ph/guide/at-a-glance/9172/rico-blancos-ngayon-was-chosen-as-the-theme-song-of-5th-tanduay-rhum-rockfest" data-desc="GMA-7 will air Tanduay Rhum Rockfest Year 5 on SNBO" data-image="https://contents.pep.ph/images2/guide/1319201103_toast.jpg"> " data-url="https://www.pep.ph/guide/at-a-glance/9172/rico-blancos-ngayon-was-chosen-as-the-theme-song-of-5th-tanduay-rhum-rockfest" data-desc="GMA-7 will air Tanduay Rhum Rockfest Year 5 on SNBO" data-image="https://contents.pep.ph/images2/guide/1319201103_toast.jpg"> " data-url="https://www.pep.ph/guide/at-a-glance/9172/rico-blancos-ngayon-was-chosen-as-the-theme-song-of-5th-tanduay-rhum-rockfest" data-desc="GMA-7 will air Tanduay Rhum Rockfest Year 5 on SNBO" data-image="https://contents.pep.ph/images2/guide/1319201103_toast.jpg">
SHARE THIS STORY
" data-url="https://www.pep.ph/guide/at-a-glance/9172/rico-blancos-ngayon-was-chosen-as-the-theme-song-of-5th-tanduay-rhum-rockfest" data-desc="GMA-7 will air Tanduay Rhum Rockfest Year 5 on SNBO" data-image="https://contents.pep.ph/images2/guide/1319201103_toast.jpg"> " data-url="https://www.pep.ph/guide/at-a-glance/9172/rico-blancos-ngayon-was-chosen-as-the-theme-song-of-5th-tanduay-rhum-rockfest" data-desc="GMA-7 will air Tanduay Rhum Rockfest Year 5 on SNBO" data-image="https://contents.pep.ph/images2/guide/1319201103_toast.jpg"> " data-url="https://www.pep.ph/guide/at-a-glance/9172/rico-blancos-ngayon-was-chosen-as-the-theme-song-of-5th-tanduay-rhum-rockfest" data-desc="GMA-7 will air Tanduay Rhum Rockfest Year 5 on SNBO" data-image="https://contents.pep.ph/images2/guide/1319201103_toast.jpg"> " data-url="https://www.pep.ph/guide/at-a-glance/9172/rico-blancos-ngayon-was-chosen-as-the-theme-song-of-5th-tanduay-rhum-rockfest" data-desc="GMA-7 will air Tanduay Rhum Rockfest Year 5 on SNBO" data-image="https://contents.pep.ph/images2/guide/1319201103_toast.jpg">