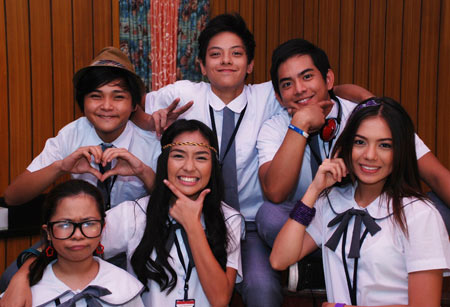 ---
Get connected with the Growing Up love teams this Sunday (October 30) as 'EllRick' (Ella and Patrick), 'JaMmy' (Jason and Tammy), 'CaSoy' (Cassie and Tikoy) and 'Mocha-Vanilla Baby' (Britney and Winston) face their love problems.
Will Jason (Diego Loyzaga) finally realize that he is in love with his new friend Tammy (Julia Montes)? How will Tikoy (Neil Coleta) survive his first heartache over his first love Cassie (Yen Santos)? Will another war strike between Ella (Kathryn Bernardo) and Patrick (Daniel Padilla) when the former discovers about Jason's courtship with another girl?
Don't miss the newest loveteams on TV every Sunday afternoon in Growing Up after ASAP Rocks on ABS-CBN.
SHARE THIS STORY " data-url="https://www.pep.ph/guide/at-a-glance/9210/the-characters-of-growing-up-experience-lq-or-lovers-quarrel" data-desc="Growing Up love teams face relationship problems this Sunday" data-image="https://contents.pep.ph/images2/guide/1319878407_GROWING-UP-BARKADA-300.jpg"> " data-url="https://www.pep.ph/guide/at-a-glance/9210/the-characters-of-growing-up-experience-lq-or-lovers-quarrel" data-desc="Growing Up love teams face relationship problems this Sunday" data-image="https://contents.pep.ph/images2/guide/1319878407_GROWING-UP-BARKADA-300.jpg"> " data-url="https://www.pep.ph/guide/at-a-glance/9210/the-characters-of-growing-up-experience-lq-or-lovers-quarrel" data-desc="Growing Up love teams face relationship problems this Sunday" data-image="https://contents.pep.ph/images2/guide/1319878407_GROWING-UP-BARKADA-300.jpg">
SHARE THIS STORY
" data-url="https://www.pep.ph/guide/at-a-glance/9210/the-characters-of-growing-up-experience-lq-or-lovers-quarrel" data-desc="Growing Up love teams face relationship problems this Sunday" data-image="https://contents.pep.ph/images2/guide/1319878407_GROWING-UP-BARKADA-300.jpg"> " data-url="https://www.pep.ph/guide/at-a-glance/9210/the-characters-of-growing-up-experience-lq-or-lovers-quarrel" data-desc="Growing Up love teams face relationship problems this Sunday" data-image="https://contents.pep.ph/images2/guide/1319878407_GROWING-UP-BARKADA-300.jpg"> " data-url="https://www.pep.ph/guide/at-a-glance/9210/the-characters-of-growing-up-experience-lq-or-lovers-quarrel" data-desc="Growing Up love teams face relationship problems this Sunday" data-image="https://contents.pep.ph/images2/guide/1319878407_GROWING-UP-BARKADA-300.jpg"> " data-url="https://www.pep.ph/guide/at-a-glance/9210/the-characters-of-growing-up-experience-lq-or-lovers-quarrel" data-desc="Growing Up love teams face relationship problems this Sunday" data-image="https://contents.pep.ph/images2/guide/1319878407_GROWING-UP-BARKADA-300.jpg">