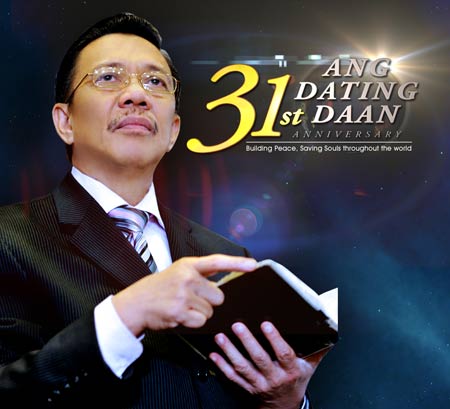 ---
PRESS STATEMENT:
"Known today as more than just a religious show, the longest-running television program, Ang Dating Daan, is turning 31 end of this month.
"On October 31, 2011, the Ang Dating Daan (ADD) that has become a by-word in public service for many Filipinos, is celebrating its fruitful years with the beneficiaries of the program's charitable projects. This program has come a long way after three long decades.
"Starting as a 30-minute radio program in 1980 over DWWA, Ang Dating Daan, hosted by Bro. Eliseo Soriano, was eventually also aired in other AM radio stations including DZME, DWAD, DZRD, and DZXQ.
"In 1983, its TV broadcast was launched over IBC 13 with Bro. Eli as the main host. It was moved to RJTV 29, PTV 4, and SBN 21.
"The title, Ang Dating Daan, was derived from the Jeremiah 6:16 and the program is presently being housed and running under UNTV channel.
"The program is being broadcast today in international territories as far the continents of Americas, Europe, Africa, Asia, and Australia. Ang Dating Daan is now translated into different languages such as in English, Portuguese, Spanish, Chinese, and Japanese language.
ADVERTISEMENT - CONTINUE READING BELOW
"Over the years, Ang Dating Daan has been expanding its mission from propagating truth to sponsoring a complex of projects for the destitute. Incidentally, Members Church of God International (MCGI) which is led by Bro. Eli, is also known to the public as Ang Dating Daan, its flagship project.
"On a daily basis, ADD and UNTV are giving free significant services to the public with medical consultations that go with free medicines, as well as legal consultations. Free jeepney and bus rides are on the busy road of Metro Manila for the convenience of daily commuters.
"ADD has been many times an awardee of the Philippine National Red Cross (PNRC) for its continuous support of mass blood donation from the members of the organization. They have been conducting monthly mass blood-letting with the administration of Philippine National Red Cross. According to the PNRC, ADD members are healthy donors due to clean living: no smoking, no drinking liquor, and following clean food laws.
ADVERTISEMENT - CONTINUE READING BELOW
"Beneficiaries of ADD charitable projects go beyond the common demography that is the poor families and students. Media personalities as well are allotted projects from time to time in the form of benefits to survivors in case of death. These beneficiaries come in random whether they are the audience of the Ang Dating Daan program or not.
"Free Education in La Verdad Christian College are also being given to deserving students who cannot afford high to continue their schooling, while the Mobile Schools are at service for the academically-challenged folks in rural areas. These services are granted in cooperation with the Department of Education.
"The country's "first free" Transient Homes are also credited to ADD, with the concept of the project designed for the homeless, whether for a night or for a longer period. The transient homes that are located in Quezon City and in Pampanga accommodate people not just with free bed to crash in for a night but with free food.
ADVERTISEMENT - CONTINUE READING BELOW
"All of these services are being performed with ADD's media partner, UNTV "Your Public Service Channel" under the supervision of the seasoned broadcaster, "Kuya" Daniel Razon."
Ed's Note: When content falls under "Press Statement," this means that the material is fully and directly from the company itself. The use of open-and-close quotation marks to envelope the entire text shows as much. This also means that PEP is not the author of the statement being read. PEP is simply providing the information for readers who may be interested.