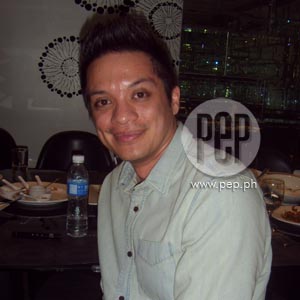 ---
PHOTO CAPTION: Bamboo Mañalac is set to release his first solo album No Water, No Moon. The former Rivermaya and Bamboo frontman revealed he drew inspiration from The Beatles and from the soundtrack of 2000 Hollywood comedy film O Brother, Where Art Thou?
Bamboo Mañalac felt it was just really time for him, and his band mates from his namesake band, Bamboo, to finally call it quits, early this year.
"You know how they say, like fighters, they never know when they're past [their] time? I think it was past our time already," confessed the 33-year-old singer in his interview with PEP.ph (Philippine Entertainment Portal) after the media listening session for his solo album No Water, No Moon held in a room at Cerchio in Morato, Quezon City, yesterday, November 3.
Bamboo, the band, disbanded January of this year after nine years of being together.
"In a sense, there was no joy in what we're doing," continued former frontman. "And moving forward creatively, it would have hindered us in our relationship amongst each other.
"So, I thought, we had to make that call. It was time to walk away and move on. And I think it was best for everyone."
WRITING SONGS. And so moving on he did.
Away from touring cities and provinces for gigs, Bamboo took time out, read a lot of books, and started writing songs.
"I asked myself, 'What do I do next?'
"I was writing music at the time, so, why not do an album?"
Bamboo said circumstances dictated it. Plus, he was really bored.
"[I have to] do this. If not, I will go nuts doing nothing.
"It was also therapy for me. Sort of, you know, you purge your demons with an album. With a CD."
TOURING ALSO HELPED. Also helping Bamboo to get back in the zone, was his U.S. tour last September and October this year.
ADVERTISEMENT - CONTINUE READING BELOW
"When I toured in the U.S., I sort of get that feel again. Na-excitement ako, ah.
"You know, I'm enjoying this sort of dynamic again, and I'm excited to get this [the album] onstage, in a theater."
The 2004 and 2005 NU Rock Awards Vocalist of the Year was excited not only for himself but also for those who have been following him.
"Where do you get to hear an orchestra...? We're gonna put banjos, we're gonna put mandolins, we're gonna put a horn section.
"We're gonna put everything there that you could think of. And we're gonna try to blow you away," enthused Bamboo.
GOING BACK TO OLD INFLUENCES. No Water, No Moon is Bamboo's first solo album under PolyEast Records. The album contains 11 English tracks and one bonus track in Tagalog, all produced and composed by Bamboo himself.
For this album, the 2004 MTV Phils. Rock Style awardee said a lot of Beatles-esque pop and influences from the soundtrack of the 2000 Hollywood comedy film O Brother, Where Art Thou can be heard.
"The Beatles-esque pop, which I blatantly put there, there were definite Beatles references there," revealed Bamboo.
The singer admitted going back to his old musical influences at certain points of uncertainty while he was starting work on his album.
"Where do I begin? That was the first question. Where do I start?
"So, I was quiet, I sat in my room. And then the first thing I thought, 'Why not start from the very beginning?'
"Why I got into this whole business? What I love listening to?'"
It was then that Bamboo went back to the music of the Fab Four and from the soundtrack of the George Clooney-starrer.
"It [music from the movie O Brother, Where Art Thou] was like my gateway to blue grass, country music, and gospel. From there, I sort of move to other things."
ADVERTISEMENT - CONTINUE READING BELOW
Bamboo took everything he liked from the movie's soundtrack like the instrumentation, the sound of banjos, mandolins, and the vocal style of the singers.
"And then a little bit of the Beatles, here and there. You know, you gotta go back there, and some pop stuff that I can't seem to put my finger on, but it's there."
No Water, No Moon's carrier single "Questions" already debuted in radio stations nationwide last September 22. The complete album is scheduled to be released on November 20.