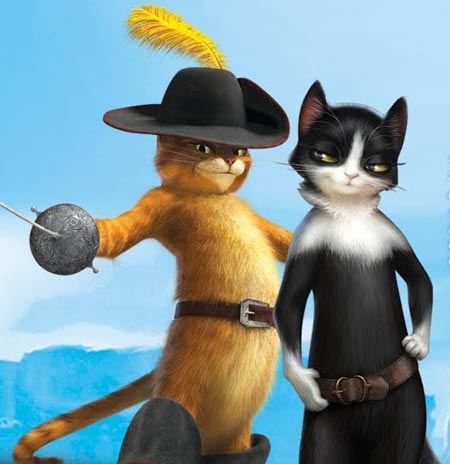 ---
This month, comedy has nine lives as DreamWorks Animation--the studio behind How to Train Your Dragon, Shrek, and Kung Fu Panda--presents the epic story of cinema's funniest, furriest feline movie star, Puss in Boots.
Long before he even met Shrek, the notorious fighter, lover and outlaw Puss in Boots (Antonio Banderas) becomes a hero when he sets off on an adventure with the tough and street smart Kitty Softpaws (Salma Hayek) and the mastermind Humpty Dumpty (Zach Galifianakis) to save his town.
Complicating matters along the way are the notorious outlaws Jack and Jill (Billy Bob Thorton and Amy Sedaris), who will do anything to see that Puss and his band do not succeed.
This is the true story of The Cat, The Myth, The Legend...and, of course, The Boots.
Puss in Boots (starring Antonio Banderas, Salma Hayek, Zach Galifianakis, and Billy Bob Thornton) is directed by Chris Miller and is distributed locally by United International Pictures thru Solar Entertainment Corporation now showing at your favorite theaters.
(CLICK HERE to read PEP's review of this animated movie)