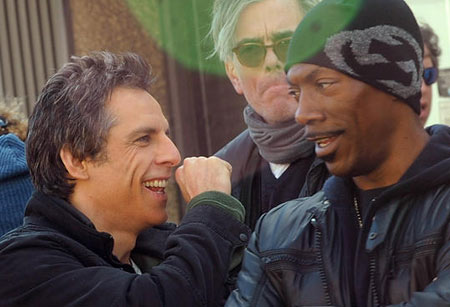 ---
PRESS STATEMENT:
"Ben Stiller and Eddie Murphy lead an all-star cast in Tower Heist, an action-comedy about a staff of blue-collar workers who seek revenge on the Wall Street swindler who stiffed them. After the crew at the luxury Central Park condominium The Tower discover the penthouse billionaire has stolen their retirement, they plot the ultimate revenge: a heist to reclaim what he took from them.
"Queens native Josh Kovaks (Stiller) has managed one of the most luxurious and well-secured residences in New York City for more than a decade. Under his watchful eye, nothing goes undetected. In the swankiest unit atop Josh's building, Wall Street titan Arthur Shaw (Alan Alda, The Aviator) is under house arrest after being caught stealing $2 billion from his investors.
"The hardest hit among those he defrauded? The Tower staffers whose pensions he was entrusted to manage.
"With only days until Shaw gets away with the perfect crime, Josh's crew turns to petty crook Slide (Murphy) to plan the nearly impossible: steal the $20 million they are sure is hidden in the heavily guarded condo where Shaw is being held by an FBI team led by Special Agent Claire Denham (Téa Leoni, Fun With Dick and Jane).
"Though amateurs, these rookie thieves--including high-strung concierge Charlie (Casey Affleck, Ocean's Eleven trilogy), broke ex-Wall Streeter Mr. Fitzhugh (Matthew Broderick, The Producers), rookie bellhop Dev'Reaux (Michael Peña, Battle: Los Angeles) and feisty maid Odessa (Gabourney Sidibe, Precious)--know the building better than anyone. It turns out they've been casing the place for years...they just didn't know it.
"Director Brett Ratner (Rush Hour series, X-Men: The Last Stand, Red Dragon) joins Academy Award®-winning producer Brian Grazer (8 Mile, A Beautiful Mind, American Gangster) to lead a talented behind-the-scenes crew for Tower Heist. Grazer is joined in production duties on the action-comedy by Eddie Murphy and Kim Roth (Inside Man, Insomnia).
ADVERTISEMENT - CONTINUE READING BELOW
"The film is from a story by Adam Cooper (Accepted) & Bill Collage (Accepted) and Ted Griffin (Ocean's Eleven) and a screenplay by Ted Griffin and Jeff Nathanson (Catch Me If You Can).
"Tower Heist released under United International Pictures, is due in Metro Manila cinemas starting Wednesday, November 9."
Ed's Note: When content falls under "Press Statement," this means that the material is fully and directly from the company itself. The use of open-and-close quotation marks to envelope the entire text shows as much. This also means that PEP is not the author of the statement being read. PEP is simply providing the information for readers who may be interested.