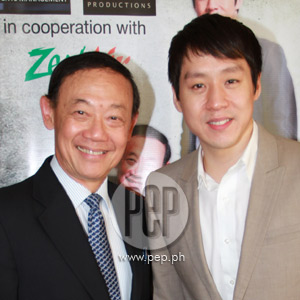 ---
PHOTO CAPTION: Jose Mari Chan (left) and Richard Poon team up for The Song Writer and the Crooner, a benefit concert that will take place on December 2, 2011 at the PICC Plenary Hall.
If legendary balladeer Jose Mari Chan were to be reincarnated in this generation, he would be, no doubt about it, Richard Poon. The OPM legend would disagree with this, saying that the young crooner is an artist in his own right, while the latter would say that he grew up listening to the veteran songwriter's songs and is much influenced by his music.
Such is the dynamic between the two singers who have been, for some time now, hard at work preparing for The Song Writer and the Crooner, a benefit concert that will be staged for one night only on December 2 at the PICC Plenary Hall. Fans of classic and mellow music will have the chance to relish Chan's old hits and dig into Poon's original songs performed in the big band style, as well as his covers of some of Chan's songs.
In the span of almost four decades, Chan has released 13 albums, the most recent of which was the Manhattan Connection, released last April, a cover of his songs by international artists.
"I always love working with younger people," says Chan in a press conference with entertainment journalists at Icing's restaurant in Tomas Morato yesterday. Richard is one of our finest singers today and I grew up listening to big band."
Poon himself is slowly emerging to be a promising solo artist. A former member of the defunct band U-Turn, he is now establishing a solo career via his numerous shows around town and his regular appearances in the Sessionistas segment of ASAP Rocks. He has also released three albums I'll Take Care of You (2007), For You (2009), and I'll be Seeing You (2010).
ADVERTISEMENT - CONTINUE READING BELOW
He, however, attributes much of his knowledge to Chan. Among his mentor's works, he likes "Beautiful Girl" and "Tell Me Your Name" the best.
"As a musician, Tito Joe makes melodies that make you smile. The melodies are immortal," says Poon of his mentor. "As a friend, he's very caring. When I was starting out, he would tell me 'The hardest part is just starting, do your rounds.' He's very diplomatic. He can say things in such a way that it will not offend you. He's very fatherly."
And Poon has the natural ability to make people smile. Having arrived at the press conference at the same time the journalists arrived, he flitted from table to table, saying hello to everybody, noting everyone's names and media outfits on a piece of paper. He gamely posed for pictures and chatted animatedly with the press.
"Richard has a very strong stage presence. First of all, he's very good-looking. That will be the good-looking part of our concert; I'll provide the charm," says Chan bursting into laughter.
The two met four years ago during a singing performance given by Richard's sister, Eva Poon, at Bahay Chinoy in Intramuros. The event was sponsored by the Kaisa Foundation, a group in the Filipino-Chinese community.
Chan, learning that the boy can also sing, told him "Richard, let's perform together."
And the rest, as they say, was history.
"Now why did you wait four years?" Chan chides Poon at the presscon. The latter only laughed.
"I encourage him to write his own songs. Because we may be forgotten but our songs will be not. It's good to be original in your own country," Chan says about his working relationship with Poon.
ADVERTISEMENT - CONTINUE READING BELOW
While encouraging the production of original works, Chan has no qualms about having his songs covered by young artists.
"Having my songs revived by younger artists is a way of introducing my songs to the younger generation. So I welcome it," he says. "In the past, I would be approached by artists asking to cover my songs. My heart is an open door. Sounds like a song right?"
Sometime in the 1980 Chan composed "Hahanapin Ko," a ballad that he says was out of his vocal range. So he gave it to singer Anthony Castello as his entry to the 1980 Metropop song festival. The song became one of the finalists.
Next year, Chan is set to release A Golden Collection Volume 2, a collection of his greatest hits not contained in Volume 1. Also, a new Christmas album for next year, not yet this season. Asked if he expects the new Christmas album to be as popular as "Christmas in My Heart," he says "Each album is like a child to me. Each is special. 'Christmas in my Heart' will always be a child for me."
For their December show, singer, songwriter and harpist Noelle Cassandra will make a special appearance as well as comedienne Pokwang.
The Songwriter and the Crooner is produced by Record Breaker Events and J&F Productions. Proceeds of the concert will go to the Aklat gabay Aruga tungo sa pag-angat at Pag-asa, a foundation that helps public schools build quality classrooms for kindergarten students; and the SPED Children of Bulacan.
ADVERTISEMENT - CONTINUE READING BELOW
To get tickets to the show, call SM Tickets at 4702222 and TicketWorld at Tel. No. 891-9999 or log on to www.ticketworld.com.ph.